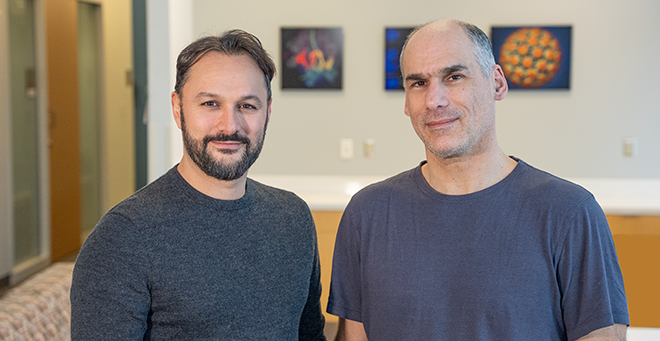 UMass Chan Medical School has licensed its bioinformatics data processing and analysis technology to Via Scientific Inc. for commercial development. The software platform, developed by UMass Chan researchers Alper Kucukural, PhD, and Manuel Garber, PhD, and colleagues in the Bioinformatics Core at UMass Chan, is a flexible and scalable, web-based bioinformatics system that empowers biomedical researchers to perform complex analysis of extremely large data sets from multiple experimental samples. The software, called Foundry, allows investigators to automate the majority of intensive bioinformatics work, such as verifying and collating data or writing new code, allowing them to focus on interpreting scientific data and research.
"The emergence of high throughput technologies, such as next generation sequencing, that produce huge amounts of data has vastly increased the amount and complexity of data available to researchers," said Dr. Kucukural, associate professor of molecular medicine, co-director of the Bioinformatics Core at UMass Chan and co-founder of Via Scientific. "Getting scientific data is no longer the bottleneck. Instead, the limiting factor in scientific discovery has become the processing and interpretation of these vast datasets that currently require significant computational expertise. Because database structure and data processing tools and algorithms are continuously evolving, only data analytics experts are able to keep up. The new bottleneck for scientific discovery is thus the shortage of such experts. Further, because there are no set standards for data analysis and many data analysts utilize their own code, it is often difficult or impossible to exactly replicate any published analysis."
The platform built by Kucukural, Dr. Garber, professor of molecular medicine, a member of the Program in Bioinformatics and Integrative Biology, and director of the Bioinformatics Core at UMass Chan, and colleagues, allows investigators to offload most of the data processing work to a modular and customizable software platform that does not require any familiarity with the underlying programming languages.
"There are labs all over the world generating massive amounts of data. The current model, which involves dedicated staff to off-load bioinformatics work simply isn't scalable," said Garber, co-founder of Via Scientific. "Bioinformaticians are in high demand, meaning procuring talent is difficult and costly.
"Furthermore, the kind of work we're talking about is very difficult, time intensive and both data and code intensive. Scientists and bioinformaticians would rather focus on interpreting data and advancing scientific discovery than becoming code experts and developing operations. Our software platform automates this process for scientists and puts them back in the lab."
"Via Scientific's mission was born out of the frustrations and delays endemic to the data intensive world of multi-omics research," said Jim Crowley, CEO and co-founder of Via Scientific. "The simple fact is that existing tools are insufficient for the multi-omics universe. Time that could be spent interrogating experimental results, analyzing data, shaping insights and advancing understanding is instead being spent on data wrangling, code writing and the like. Foundry eliminates all of that so that researchers and labs can focus on accelerating their science. We could not be more excited about Foundry and our partnership with UMass Chan."
"We are thrilled to introduce Foundry to the market," said Melissa Moore, PhD, co-founder of Via Scientific and chief scientific officer Emeritus at Moderna. "As both an academician and chief scientific officer at Moderna, I saw firsthand the need for a powerful and adaptable tool like Foundry. Scientists are consistently challenged to keep up with our ability to ask questions and imagine possibilities. Foundry transforms 'process time' into 'scientific time,' so scientific teams can focus on unlocking the underlying science that results in new insights and breakthroughs."
The Via Scientific partnership was facilitated by Bridge Innovation and Business Development at UMass Chan Medical School.
Related UMass Chan news stories:
UMMS licenses gene therapies for Tay-Sachs and similar diseases to Axovant
UMass Medical School licenses gene therapy approach for Leber congenital amaurosis
Novel therapeutic, based on UMMS microbiome discoveries and licensed by Bacainn Therapeutics, targets ulcerative colitis