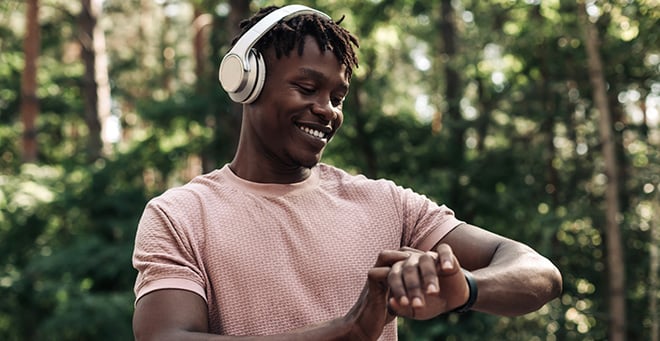 Millions of Americans seeking to lose weight are wearing wireless activity trackers to hold themselves accountable, but what if their Fitbit data was shared with their doctors, as well?
A small, pilot study at UMass Chan Medical School will determine how to effectively integrate patient wearable device data into electronic health records and allow providers to help patients set and monitor physical activity goals.
"Most people think they have to achieve 10,000 steps per day to receive positive health benefits, but it's just making an increase right above our baseline and how that can translate to positive health benefits over time. And as part of somebody's routine clinical care, it can have a positive effect because people really care about what their providers say to them," said Jamie Faro, PhD, assistant professor of population & quantitative health sciences.
The pilot study, led by Jeevarathna Subramanian, MD, associate professor of medicine, and Dr. Faro, is supported by a $25,000 grant from the Ambulatory Research Consortium at UMass Chan.
Patients selected for the study will be equipped with a Fitbit to sync to the Apple HealthKit mobile app to patient portal electronic health records.
"Being physically active is one of the most important actions that all of us can undertake to improve our overall health," said Dr. Subramanian. "Improving physical activity reduces the risk for several chronic medical conditions including weight management."
The Centers for Disease Control and Prevention does provide guidance on how much physical activity is needed for adults of all ages.
The study will be conducted remotely. The primary focus will be to track the number of steps each patient takes per day. According to Faro, it's an easy metric to display to providers and have it tracked over time. As part of the study, researchers will determine how providers want to receive notifications about their patients' device data, how often they want to communicate with a patient about the data and how to provide goal setting strategies for the patient moving forward.
Investigators plan to recruit a diverse patient population.
"The patient population has been less represented in this type of research. So, we really want to gain an understanding of their perceptions of a program like this and how we can provide the support needed to make it easily accessible to them," said Faro.
The study will start in February and will run through November. Nina Rosano, MD, assistant professor of medicine, and one of the co-investigators for the pilot program, will be developing the next trial which may include behavioral support for providers and patients in using the wearable devices as part of usual care.
Related UMass Chan news stories:
Tracking heart rhythms through smart watches a 'marriage of science and medicine'
UMass Chan researchers study digital wrist sensor to help aid drug rehab, improve treatment