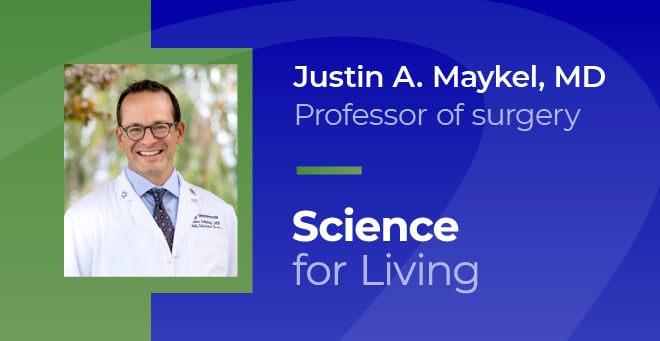 Despite newer options available to detect the presence of colorectal cancer, including noninvasive stool tests that detect blood and, in some tests such as Cologuard, DNA cell changes linked to cancer, colonoscopy is still the gold standard, according to Justin Maykel, MD.
"It has definitely been shown to prevent colorectal cancer," said Dr. Maykel, the Joseph M. Streeter and Mary Streeter DeFeudis Chair in Surgery, professor of surgery and chief of the Division of Colorectal Surgery.
The U.S. Preventive Services Task Force recommended in 2021 that adults age 45 to 75 be screened for colorectal cancer, lowering its previous recommended starting age from 50. Maykel said studies dating back to the 1990s show that screening in people 50 or over has led to a decrease in the rate of colorectal cancer in that age group. But colon and rectal cancer rates are increasing in people under age 50.
In fact, one in 10 patients with colorectal cancer seen at UMass Memorial Health is younger than 50, said Maykel. And when patients who are younger than 50 get cancer, the cancer tends to grow faster and is more aggressive.
Maykel said that colonoscopy, in which a thin, flexible scope is inserted into the rectum and entire colon, can find cancers but also can find and remove precancerous polyps. Stool tests don't have that preventive ability.
"We estimate that 90 percent or more of colon cancers are preventable, despite the fact that it is the third most common form of cancer in the United States," he said.
Colorectal cancer is the second-leading cause of cancer deaths. The survival rate for stage I cancer is greater than 90 percent though, which is why early detection is key.
Maykel pushed back against a paper published recently in the New England Journal of Medicine that suggested the benefits of getting a colonoscopy were unclear, calling the study, "poorly designed."
The study compared colorectal cancer rates among people who had been offered a colonoscopy with a control group that had not been offered a colonoscopy. But only around 40 percent of those offered a colonoscopy actually received one.
"Basically, the conclusion from the study is that we need to do a better job of educating and convincing people to get screened," said Maykel.
A hurdle for many people is the commitment to prepare for the exam, which includes fasting and clearing out the bowels so the colon lining can be viewed. Another is the fear that cancer might be found. The procedure itself, performed under sedation, is "truly simple and low risk," according to Maykel.
UMass Chan physicians also report discrepancies in screening rates depending on socioeconomic background and ethnicity.
Maykel and his colleagues have launched an effort to educate UMass Chan and UMass Memorial Health employees across all job categories about the importance of colorectal screening.
"We've had a lot of success signing employees up to get their screenings and we've identified numerous employees with precancerous polyps," he said. "Already through the program, one patient was identified with early colon cancer," which is more treatable than at advanced stages.
Maykel urged anyone with symptoms related to colorectal cancer to tell their primary care provider and have a colonoscopy done. Symptoms include blood in the stools, changes in bowel habits, unexplained weight loss and abdominal pain that doesn't go away.
Science for Living features the perspectives of UMass Chan Medical School experts on the research behind health news headlines. If you have ideas for topics you'd like to see explored, please send them to susan.spencer1@umassmed.edu.
Related UMass Chan news stories:
UMass Medical School researchers ramp up COVID-19 convalescent plasma study
2019 Investiture Ceremony honors four named professors and their benefactors