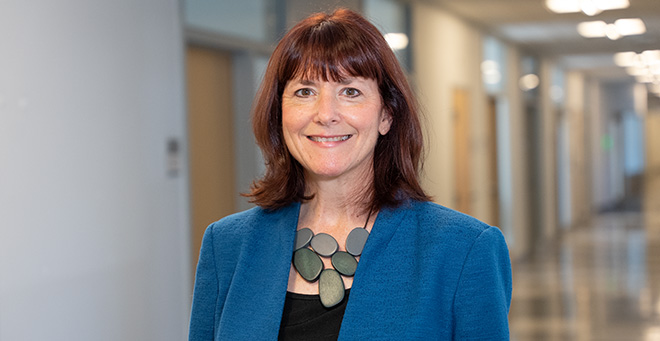 UMass Chan Medical School palliative care specialist Jennifer A. Reidy, MD, is lead author on a recent paper by statewide experts leading the way to train all medical students in communicating effectively and compassionately with patients facing serious illness. The paper by members of the Massachusetts Medical Schools' Collaborative, published in September in BMC Medical Education, outlines steps to integrate palliative care in developmental steps across medical school curricula.
Dr. Reidy, the Joy McCann Professor for Women in Medicine and associate professor of family medicine & community health, said palliative care skills are fundamental aspects of being a physician—including managing patients' symptoms and stress from serious illness to improve their quality of life; navigating complex medical and personal goals alongside other medical providers; and "walking the road with them, no matter what the outcome is."
But medical students across the United States are not routinely trained in palliative care. Fewer than one-third of physicians surveyed in a national study felt they received the necessary communication skills training to break difficult news, explore goals of care and navigate end-of-life decisions.
"Almost every doctor cares for people living with serious illness," said Reidy. "Our goal is to equip our future doctors to better understand and serve these patients and families from all walks of life at profound times in their lives."
The Massachusetts Coalition for Serious Illness Care brought together the deans of the state's four medical schools to form the Massachusetts Medical Schools' Collaborative and commit to a goal of training students in serious illness communication as a graduation requirement. The initiative was inspired by thought leaders Atul Gawande, MD, founder and co-chair of the Massachusetts Coalition for Serious Illness Care, and the late Harris Berman, MD, former dean of the Tufts University School of Medicine.
The collaborative first developed five core competencies in serious illness communication for undergraduate medical students, which are available on the coalition's website.
Next, they mapped each school's curriculum to the competencies to identify strengths and gaps and conducted focus groups of fourth-year students to understand their perspectives and experiences on this topic.
At UMass Chan, students have opportunities to learn palliative care skills, but these are largely elective, and spaces are limited, Reidy said. She is using the results of curriculum mapping to inform and develop longitudinal training in advanced communication skills into the new Vista curriculum.
Now, first-year students learn a framework for breaking difficult news and practice in role play during their "Doctoring and Clinical Skills" course. Reidy teaches an elective, "Caring for the Seriously Ill," which is in its 25th year at UMass Chan, for first- and second-year medical and nursing students from the Tan Chingfen Graduate School of Nursing.
Second-year students also have elective opportunities in palliative care as a flexible clinical experience or as part of the population health clerkship.
In the third year, students are required to participate in a half-day palliative care workshop where they role play a goals-of-care conversation with a standardized patient with advanced heart failure. There is also a week-long flexible clinical experience in palliative care.
Fourth-year students can do a month-long palliative care elective, but it is very popular, and spots are limited.
Reidy said an important part of these communication initiatives is to help students develop self-awareness, reflect on their own emotions and identify strategies to foster resiliency early in their medical careers.
"I really see palliative care as a kind of social movement within health care and medical education," Reidy said. "This is not only about clinical excellence, but professional identity formation, long-term sustainability and finding joy in medical practice again."
Related UMass Chan news stories:
Boston Globe highlights palliative care training at UMass Medical School
LISTEN: Jennifer Reidy shares insight, evidence about palliative medicine in new Voices of UMassMed podcast