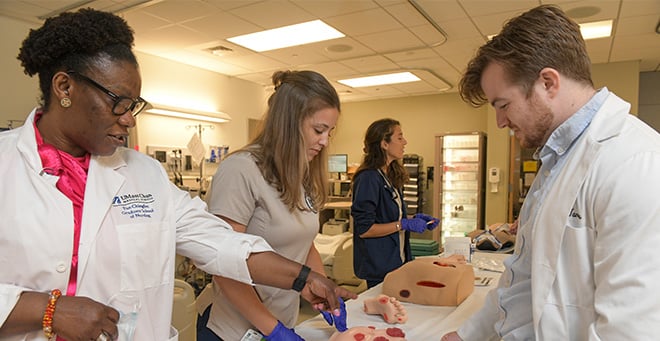 UMass Chan Medical School is launching a program to formally train nurse preceptors and address the regional nursing shortage.
The New England Nursing Clinical Faculty and Preceptor Academy will be led by the Tan Chingfen Graduate School of Nursing, in collaboration with the UMass Chan Clinical Faculty Development Center's Teaching of Tomorrow program and the federally funded Area Health Education Centers, or AHEC, in Massachusetts, Connecticut, Rhode Island, Maine, Vermont and New Hampshire.
The work is funded by a $4 million, four-year grant through the Health Resources and Services Administration's (HRSA) Nurse Education, Practice, Quality and Retention Clinical Faculty and Preceptor Academies (NEPQR-CFPA).
The objective of the grant is to increase the number of qualified clinical nursing faculty and preceptors to address health equity and increase access to care.
A preceptor oversees the work of nursing students and new nurses and provides feedback and guidance during clinical rotations. The grant can support those who teach nurses at all levels—from associates to doctorate degrees and residents in a variety of care settings in rural and underserved areas.
"There's no real formal education to be a preceptor. The academy is a great opportunity to really tie together training and experience and give people a formal education on how to step into the role of a preceptor," said Jill Terrien, PhD, ANP-BC, associate professor of nursing, associate dean of interprofessional and community partnerships, and principal investigator on the grant.
The Tan Chingfen Graduate School of Nursing will serve as the central hub for the academy, with training provided by the Clinical Faculty Development Center. MassAHEC at UMass Chan will leverage regional AHEC connections to cover all six states, with Linda Cragin, MS, instructor in family medicine & community health and MassAHEC program director, serving as the academy's practice partnership liaison.
"There is a shortage of clinical sites for nurse learners since nurses are stretched providing care. How do you build in the time to teach when you are busy providing care?" said Cragin. "Our objective is to build capacity."
The New England-area AHEC partners will each train 20 preceptors or clinical instructors over two years, providing nursing faculty development opportunities for their local faculty preceptors and clinical instructors.
In the first year of the grant, MassAHEC will work with centers in the Berkshires and on Cape Cod.
"We're hoping the grant builds a preceptor's confidence in teaching and becomes a catalyst to strengthen the connections between schools of nursing, training sites and future employment sites for long-term retention of nurses," said Dr. Terrien.
Related UMass Chan news stories:
Tan Chingfen Graduate School of Nursing welcomes 43 to field at pinning ceremony
Jill Terrien elevates nursing education and practice