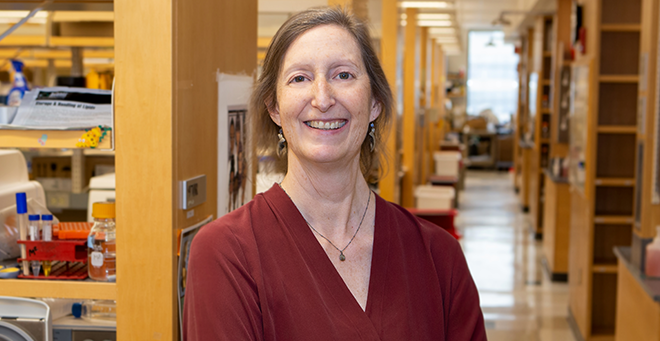 Mary Munson, PhD, professor of biochemistry & molecular biotechnology and vice chair of diversity for the department, is one of 22 scientists named a fellow by the American Society for Cell Biology for 2022.
Election as a fellow is an honor bestowed upon society members by their peers. Fellows are recognized for their lifetime achievement in advancing cell biology, meritorious efforts to advance cell biology and its applications, and for their service to the society.
Dr. Munson will be among the new cohort of fellows to be formally recognized in Washington, D.C., in December at Cell Bio 2022, the joint meeting of the American Society for Cell Biology and the European Molecular Biology Organization.
"I am honored to be recognized in this year's cohort and to join such a distinguished group of cell biologists," said Munson.
An expert in the mechanistic basis for regulation of spatial and temporal membrane trafficking, Munson is interested in understanding how cargo arrives at the correct location at the right time throughout the cell and is either released to or internalized from the extracellular space. The Munson Lab aims to answer questions about membrane trafficking through a multifaceted approach that combines biochemical, structural and biophysical techniques with yeast and mammalian genetics, microscopy and cell biological methods.
Munson joined UMass Chan Medical School in 2001. Prior to joining the faculty, she was a postdoctoral fellow in the department of molecular biology at Princeton University, where she was awarded American Heart Association and National Institutes of Health fellowships. She was a double major in chemistry and biology at Washington University (St. Louis) and received her PhD from Yale University in molecular biophysics and biochemistry. In 2015, Munson was awarded the inaugural Bassick Family Worcester Foundation Award.
Since joining UMass Chan, Munson has been closely involved with teaching and curriculum development for the Morningside Graduate School of Biomedical Sciences and has been recognized by the institution several times for her outstanding contributions to curriculum development and student mentoring. She is the faculty advisor for the UMass Chan student chapter of the Society for Advancement of Chicanos/Hispanics and Native Americans in Science. She is a leader of the diversity action committee in the Department of Biochemistry &Molecular Biotechnology and leads the new Morningside Graduate School of Biomedical Sciences Faculty Focused on Inclusive Excellence committee, focused on engaging and educating faculty to promote diversity, equity and inclusion on campus.
She is the co-chair of the American Society for Cell Biology's Women in Cell Biology committee and a co-investigator of its AMP MOSAIC program. She recently became a trained facilitator for "Entering Mentoring," a program sponsored by the Center for the Improvement of Mentored Experiences in Research to enable strong and supportive scientific mentors.
Munson joins Gregory J. Pazour, PhD, professor of molecular medicine; Thoru Pederson, PhD, the Vitold Arnett Professor of Cell Biology and professor of biochemistry & molecular biotechnology; and George B. Witman, PhD, professor emeritus of radiology, in being named fellows of the American Society for Cell Biology.
Related UMass Chan News stories
At MLK tribute, Mary Munson recognized for commitment to diversity and inclusion in science field
UMMS researcher co-directs project to enhance diversity in biomedical sciences workforce.
Thoru Pederson named fellow of the American Society for Cell Biology
Gregory Pazour elected fellow of the American Society for Cell Biology