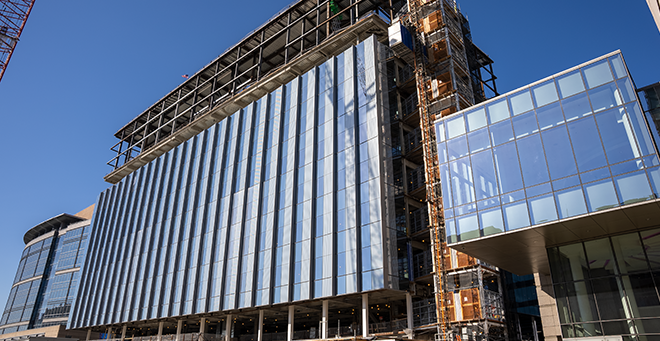 The exterior of the new education and research building under construction at the UMass Chan Medical School Worcester campus is quickly being covered with sections of a customized energy-efficient system known as a unitized curtain wall.
The curtain wall comprises prefabricated rectangular units, each with three layers of glass set in insulated aluminum and steel frames. It will create a weather-tight outer skin with architectural features that define the visual look of the building.
"It's impressive to see how fast the curtain wall is going up," said John Baker, deputy executive vice chancellor for facilities. "It is important for the curtain wall and roof to be in place by winter, so construction can progress on the interior."
In all, 1,520 sections of curtain wall will be lifted into place, then bolted to the structural steel frame of the building.
The outer layer of glass is set at an angle, creating a sawtooth façade, rather than a flat surface. On one end of most curtain wall sections, a metal fin extends from the frame to cast shadows on the glass and limit the solar heat gain from direct sunlight. Areas of the outer glass have vertical stripes made of a thin layer of ground glass, called frit, applied to the surface to create a visual feature.
The curtain wall exceeds the state's building code for thermal performance by 22 percent. That ability to limit heat loss in winter and reduce overheating from the sun in summer is an important element of the overall building's energy performance and sustainability rating, which is aimed at achieving LEED Gold certification from the U.S. Green Building Council.
"It's the first use of a triple-pane system on campus," said Brian Duffy, senior architectural manager for facilities engineering & construction.
The curtain wall sections were built by Fabbrica Inc. of Windsor, Connecticut. Last year, prior to full-scale production, a prototype was built for testing. "This is a custom designed product, so we wanted to inspect it and fully test before we committed to buying the whole system," Duffy said.
Duffy and representatives from the building's design and construction team visited the Fabbrica plant to witness the manufacturing processes. They also traveled to a testing center in Pennsylvania to observe as sections of the wall were twisted, blasted with high wind and water, and pressurized to simulate interior and exterior building forces.
"The testing was intense. You could see the glass units deflecting from the pressure," Duffy said. "But through it all, there were no leaks. We were very satisfied with the results of the testing."
A second round of tests, this time on sections after they have been installed in the building, is set for mid-October.