UMass Chan reports data on diversity makeup of students, faculty and staff
DIO vice chancellor Marlina Duncan: Transparency key to increasing diversity, equity and inclusion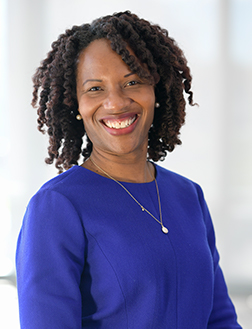 UMass Chan Medical School is posting data on the diversity composition of its campus community in support of its strategic goal to increase diversity, equity and inclusion. The Diversity Data Dashboards include self-reported data from UMass Chan's faculty, staff and students by race, ethnicity and gender and will be updated annually.
"It is important that as we talk about increasing representation, it helps to start with a clearer understanding of the current population," said Marlina Duncan, EdD, vice chancellor for diversity and inclusion. "We all need a common understanding of where we are; questions such as 'Who is at UMass Chan,' 'How do people identify' and 'What are some of our goals around this' are ways to ensure that attention to diversity is a priority of our institution."
UMass Chan's commitment to diversity, equity and inclusion is described in the diversity pillar added to the IMPACT 2025 strategic plan in January. It outlines strategic goals to increase DEI through polices and processes; develop and integrate an anti-biased curriculum; increase DEI education, engagement, and capacity; establish equity within DEI recruitment, mentorship, and advancement; and evaluate and assess progress.
Dr. Duncan said data will drive these goals and enable the institution to create the climate and culture it aspires to create.
Related UMass Chan news stories:
LISTEN: Marlina Duncan on how community can work together on diversity, equity, inclusion
Diversity, equity and inclusion pillar added to UMass Chan strategic plan
UMass Chan Medical School creates affinity groups to support faculty and staff of color