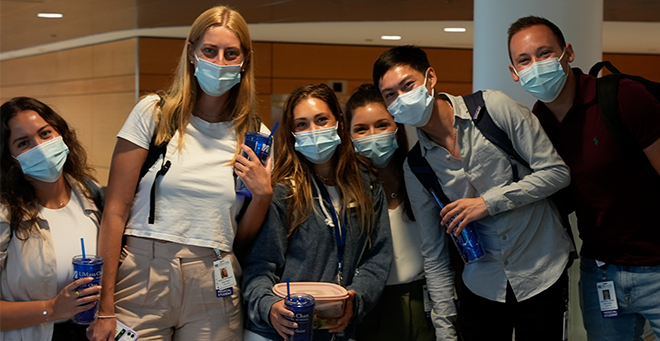 Monday, Aug. 22, was a banner day at UMass Chan Medical School, as the T.H. Chan School of Medicine welcomed its largest class, launched a new curriculum called Vista and participated in the ceremonial steel beam "topping off" of the new education and research building under construction on campus.
"Think of the opportunities you have to study at a place where RNA interference was discovered, and where now RNA can be used as a modality to treat disease," said Chancellor Michael F. Collins in his address to the 175 students in the Chan School of Medicine Class of 2026 assembled in the Albert Sherman Center auditorium for their first day of medical school.
Terence R. Flotte, MD, the Celia and Isaac Haidak Professor, executive deputy chancellor, provost and dean of the Chan School of Medicine, and Anne Larkin, MD, associate professor of surgery and vice provost and senior associate dean for educational affairs, introduced the class to UMass Chan's new medical school curriculum.
"Vista is very much focused on what students need," Dr. Flotte said.
Dr. Larkin said there are three phases to the curriculum. Discovery focuses on foundational work that lasts 16 to 18 months. Exploration follows, as students dig deep into their clinical rotations. And horizons is last, in which students select an area of focus and complete required rotations.
"If you close your eyes and you think about a vista, I hope that what you see in your mind's eye is an unlimited vision in front of yourself," Larkin said.
Among the 175 students in the new class, sixty-two percent self-identify as women and 70 percent are Massachusetts residents.
"I wanted to stay in Massachusetts. I wanted to give back to the community that I came from and gave me so much," said HyukJoo "H.J." Hwang, a Boston native interested in surgery and internal medicine who is one of seven Harvard graduates in the class.
"I actually got all of my primary care at UMass Memorial Medical Center, so it was super surreal to be coming back now," said Kimberly Jin about going to medical school on the same campus as UMass Chan's clinical partner. Jin grew up in Berlin, Massachusetts, and earned her undergraduate degree at Georgetown University.
The largest group of out-of-state students (17) is from California, while six are from Illinois. Forty students are from backgrounds underrepresented in medicine, 23 from economically and educationally disadvantaged backgrounds, and 12 are first-generation college students.
Twenty-six students are enrolled in the Population-based Urban and Rural Community Health (PURCH) Track, UMass Chan's program with Baystate Health, while eight are in the MD/PhD program. Seventeen students graduated from one of the schools in the University of California system; 15 students are UMass graduates, including three who took part in the UMass Baccalaureate MD Pathway Program.
"I'm a first-generation college student, so before the BaccMD program, I never really had someone to held my hand and tell me what this journey is like," said Yuying Zhang, a 2020 UMass Amherst graduate who was mentored through her final years of college and her gap years. "I hope one day that I will be able to be that person who holds another student's hand and be their mentor to help them succeed or make their dream come true."
After the orientation, many of the medical students signed the ceremonial steel beam for the new education and research building and witnessed it being put into place during a ceremony at the construction site led by Chancellor Collins.
Orientation for the class began on Wednesday, Aug. 17, with a joint event with students in the Morningside Graduate School of Biomedical Sciences and the Tan Chingfen Graduate School of Nursing. Those two schools each welcomed 87 new students. The Diversity and Inclusion Office hosted orientation activities for learners of color on Thursday, Aug. 18.
Related stories on UMass Chan News:
Chancellor Collins welcomes SOM Class of 2025 to 'an exciting time to be coming into medicine'
School of Medicine Class of 2024 welcomed amid new normal
School of Medicine Class of 2023 to 'make a difference in the lives of patients'