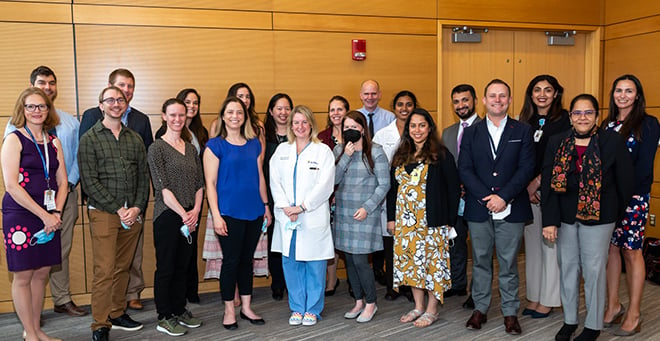 Twenty-eight rising junior faculty members celebrated completion of the 2021-'22 Junior Faculty Development Program at UMass Chan Medical School. They and their senior faculty mentors were joined by family and friends at a graduation ceremony that took place Thursday, May 19, in the Albert Sherman Center.
The intensive professional development experience is designed to accelerate participants' academic and professional development, comprising a nine-month curriculum with individual projects conducted under the guidance of senior faculty mentors. Project topics represent mission areas of education, research and service, ranging from clinical trials to outcomes-based research to educational initiatives and planning for new clinical services.
"Junior faculty are an essential resource for an academic institution. If the institution is to grow and flourish, these individuals must be nurtured, mentored and retained," said Susanne Muehlschlegel, MD, MPH, professor of neurology and co-director of the program along with Pranoti Mandrekar, PhD, professor of medicine. "The Junior Faculty Development Program is designed to help them further develop the skills beyond clinical and laboratory excellence to provide a foundation for their success in academic medicine."
Representing almost every academic department, 306 junior faculty members have participated since the program was established at UMass Chan in 2010. Faculty graduates are retained at UMass Chan and achieve academic advancement at higher rates than nonparticipants, moving into leadership positions, including department chair or vice chair, division chief, residency director and principal investigator of an independent research lab.
"The program has great value for basic scientists as well as clinicians," said Dr. Mandrekar. "They benefit not only from insights into the expectations of scholarship in promotions and tenure but also learn much from their clinician–scientist colleagues."
Application for membership in the Junior Faculty Development Program is open until June 8 for the Class of 2023, which will run from Sept. 8, 2022 through May 18, 2023.
2022 Junior Faculty Development Program graduates
Demetri Adrahtas, MD, assistant professor of anesthesiology & perioperative medicine
(mentor: Ricardo Poza, MEd, instructor in nursing)
Elizabeth Allocco, MD, assistant professor of obstetrics & gynecology
(mentor: Jessica Simons, MD, MPH, professor of surgery)
Maushumi Assad, MD, MPH, assistant professor of pediatrics
(mentor: Kathleen Mazor, EdD, professor of medicine and associate director of the Meyers Health Care Institute)
Lisa Bocelli, DO, assistant professor of medicine
(mentor: Jennifer Carey, MD, associate professor of emergency medicine)
Madhuri Chandnani, MD, assistant professor of medicine
(mentor: Patricia Seymour, MD'07, associate professor of family medicine & community health and assistant dean of clinical curriculum in the Office of Undergraduate Medical Education)
Suliman El-Amin, MD, assistant professor of psychiatry
(mentor: Celine Larkin, PhD, assistant professor of emergency medicine)
Nura El-Haj, MD, assistant professor of pediatrics
(mentor: Erin Barlow, MD, assistant professor of obstetrics & gynecology)
Lauren Feld, MD, assistant professor of medicine
(mentor: Sybil Crawford, PhD, professor of medicine)
Lauren Ferrara, MD, assistant professor of radiology
(mentor: J. Aaron Scott, DO, assistant professor of anesthesiology & perioperative medicine)
Minjin Fromm, MD, assistant professor of orthopedics & physical rehabilitation
(mentor: Shao-Hsien Liu, PhD, assistant professor of population & quantitative health sciences)
Danielle Hebert, DNP, MBA, MSN'07, ANP-BC, assistant professor of nursing and coordinator of adult-gerontology primary care nurse practitioner track
(mentor: Manas Das, MD, associate professor of radiology and assistant dean for foundational curriculum in the Office of Undergraduate Medical Education)
Rose Kronziah-Seme, PhD, MSN, RN, CHSE, assistant professor of nursing
(mentor: Maksim Zayaruzny, MD, associate professor of anesthesiology & perioperative medicine)
Feifan Liu, PhD, assistant professor of population & quantitative health sciences and radiology
(mentor: Arvin Garg, MD, MPH, professor of pediatrics)
Cassandra Mackey, MD, assistant professor of emergency medicine
(mentor: Yasmin Carter, PhD, associate professor of radiology)
Oluwaseyi Oni, MBChB, MPH, assistant professor of pediatrics at UMass Chan-Baystate
(mentor: Austin Lee, PhD, assistant professor of population & quantitative health sciences)
Krunal Patel, MD, assistant professor of medicine
(mentor: Karim Alavi, MD, associate professor of surgery)
Prakash Paudel, MD, assistant professor of medicine
(mentor: Matthew Alcusky, PhD, PharmD, MS, assistant professor of population & quantitative health sciences)
Abita Raj, MD, assistant professor of psychiatry
(mentor: James Ledwith, MD, assistant professor of family medicine & community health)
Abbas Rupawala, MD, assistant professor of medicine
(mentor: Andres Schanzer, MD, the Cutler Chair in Vascular and Endovascular Surgery, professor of surgery and population & quantitative health sciences and chief of the Division of Vascular and Endovascular Surgery in the Department of Surgery)
Jessica Salerni, DO, MEd, assistant professor of family medicine & community health
(mentor: Gordon Manning, MD, assistant professor of medicine)
Lorissa Smulan, PhD, assistant professor of medicine
(mentor: Cole M. Haynes, PhD, professor of molecular, cell & cancer biology)
Chrystina Soloperto, PhD, RN, CPNP-PC, assistant professor of nursing
(mentor: Kimberly Fisher, MD, associate professor of medicine)
Ina St. Onge, DO, FAAP, assistant professor of pediatrics
(mentor: Carolynn DeBenedectis MD, associate professor of radiology)
Kaitlyn Elizabeth Ellis Wong, MD, MPH, PhD, assistant professor of surgery
(mentor: J. Matthias Walz, MD, chair and professor of anesthesiology & perioperative medicine)
Tianle Zou, MD, MS, assistant professor of pathology
(mentor: Anthony Nunes, PhD, assistant professor of population & quantitative health sciences)