UMass Chan Medical School is well positioned to drive the region's life sciences and health services sector, Chancellor Michael F. Collins told an online audience for the Worcester Emerging series, produced by the Worcester Business Journal and State House News Service. And as Worcester's vitality grows, economic development in Central Massachusetts is garnering more attention.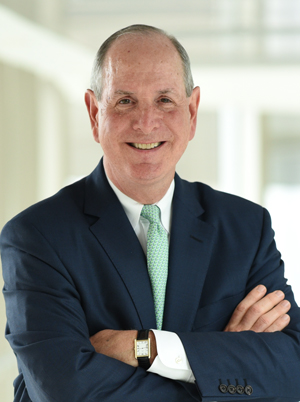 Referencing remarks that Gerald Chan made on behalf of the Chan family when The Morningside Foundation naming gift was announced, Chancellor Collins said, "They said the commonwealth must look beyond Route 128, and I completely agree with that."
Collins was joined on the panel by Julia Georgules, head of Americas research and strategy with real estate and investment management firm JLL, and Ivette Almeda, Transformative Development Initiative fellow with MassDevelopment. The panel was moderated by independent journalist and former Worcester reporter for GBH News, Carrie Saldo.
Saldo introduced the discussion by describing Worcester's former stereotype as an exit off the Mass Pike, "simply a place that you drove past on your way to Boston." Now, she said, "Clearly that's changing." A vibrant culture and arts scene, restaurants, top educational institutions, and less expensive housing than in greater Boston are making Worcester a desirable place to live and work.
In addition to the Medical School's 5,100 employees and 2,000 students, Collins touted the institution's significant National Institutes of Health research funding—larger than that of 26 other states; its competitive academic programs, consulting company and biotech manufacturing; and involvement in communities throughout the state.
But Worcester is still emerging from its old over-shadowed image. "I think it's fair to say that our medical school is better known in other states and around the world sometimes than it is in Massachusetts," said Collins.
"Science really doesn't know a boundary. It doesn't know geographic area," Collins continued, pointing to significant investment from state, national and international science funders. That funding has ripple effects. UMass Chan's NIH research funding has an economic multiplier impact of approximately $2 billion, according to Collins.
The Medical School and its scientific infrastructure are attractive to life science firms, Collins said. UMass Chan's Biotech Park is 99 percent occupied and continues to gain interest. Not insignificantly, the cost of real estate in the Boston area is up to three times higher than it is in Worcester.
The vacancy rate of core lab space where life sciences research is conducted is 1.4 percent in the greater Boston market, leaving not much room to grow, Georgules said. "As we're starting to see companies grow and mature, there is a need for biomanufacturing to conduct their clinical trials and continue to move toward FDA approvals," she said. "Worcester is positioned really well to capitalize on that biomanufacturing."
Besides the medical science talent and science infrastructure at the Medical School, "There's a very positive mindset here (in Worcester)," said Collins. "Government works, government leaders support the institutions. I like to say there's a collaborative gene, and it's in a wonderful place to live and to work."
Economic revitalization could still do better, however. Collins said he is focused on increasing—and paying for—the workforce needed for growth, highlighting the upcoming job fair March 30 at the Beechwood Hotel to fill some 600 positions. And transportation to Worcester, while improved from years ago, could use more commuter rail and robust airline service.
"The more that we can do and plan and collaborate as a region, the stronger we'll be," Collins said.