William Flavahan receives Distinguished Scientist Award for groundbreaking brain cancer research
Funding from the Sontag Foundation will support studies into genetic processes leading to brain tumors
UMass Chan Medical School cancer biologist William Flavahan, PhD, has been awarded a four-year, $600,000 Distinguished Scientist Award from the Sontag Foundation to advance his studies of the genetic processes leading to brain tumors. Since its founding in 2002 by glioma survivor Susan Sontag and her husband Frederick Sontag, the foundation has become one of the largest private funders of brain cancer research in the United States.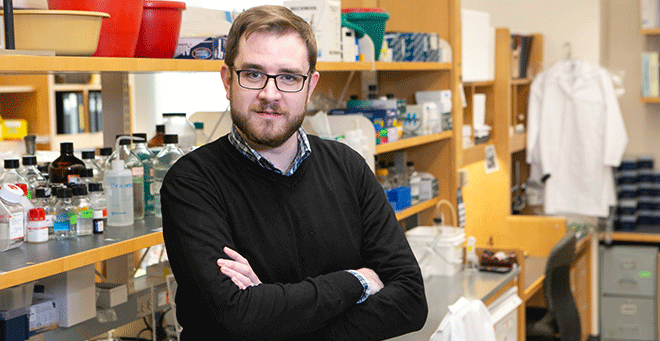 "I am incredibly honored to be a recipient of this very prestigious award," said Dr. Flavahan, assistant professor of molecular, cell & cancer biology. "Changes to the epigenome are ubiquitous in brain cancer, yet much remains to be discovered about how these changes guide brain tumor biology."
The Flavahan lab focuses on understanding how brain cancers can be driven by changes in epigenetics, the molecular processes that help cells read and interpret the information stored in their DNA. The Sontag-funded study will examine how epigenetic defects may play a role in the initiation and treatment resistance of primary pediatric glioma, the leading cause of cancer deaths in children.
Flavahan and colleagues have made the groundbreaking discovery that epigenetic controls can go awry and turn on genes called oncogenes, which may turn normal cells into tumors, including gliomas. In particular, previous work he performed in collaboration with other Sontag awardees demonstrated how epigenetic dysfunction could mediate the effects of a genetic mutation in the metabolic enzyme IDH1, leading to activation of a well-known glioma oncogene called PDGFRA.
The findings suggest that new drugs targeting gene controls could be effective against these hard-to-treat tumors.
"My studies seek to further expand this paradigm to other poorly understood mutations that are known to drive brain tumors, and to develop new technologies to further examine the role of the epigenome in how brain tumors respond in the clinic," Flavahan said. "Understanding these processes may help guide the development of new treatments or help us mobilize existing treatments in new ways."
Flavahan joins previous UMass Chan Sontag Foundation honoree Mark Johnson, MD, PhD, the Maroun Semaan Chair in Neurosurgery and chair and professor of neurosurgery, who received the Distinguished Scientist Award in 2004.
Related story on UMassMed News:
Research by Mark Johnson provides insights into origins of idiopathic normal pressure hydrocephalus