Top story: UMass Medical School researchers to start trial of Moderna COVID-19 vaccine in teens
As the year comes to a close, the Office of Communications is rerunning some of the big stories we covered in 2021, including the launch of the UMass Chan Medical School-led volunteer Vaccine Corps, the ribbon cutting for the community-based outpatient clinic for veterans on the Medical School campus and the $175 million transformational gift from The Morningside Foundation that led to our name change. Look for these stories on UMassMed News between Dec. 22 and Dec. 30. This story was originally published on Jan. 26, 2021.
---
UMass Medical School researchers are about to start enrolling adolescents ages 12 through 17 in a clinical trial to test the COVID-19 mRNA vaccine made by Moderna. The vaccine has already been authorized for emergency use in adults 18 years or older by the U.S. Food and Drug Administration. This is the first it is being tested in a younger population.
Moderna expects to enroll 3,000 adolescents at up to 15 sites nationwide. Enrollment in the trial, called TeenCove, is expected to start at the Medical School in early February. Adolescents and their families can visit the TeenCOVEStudy.com website for more information and to indicate their interest in participating.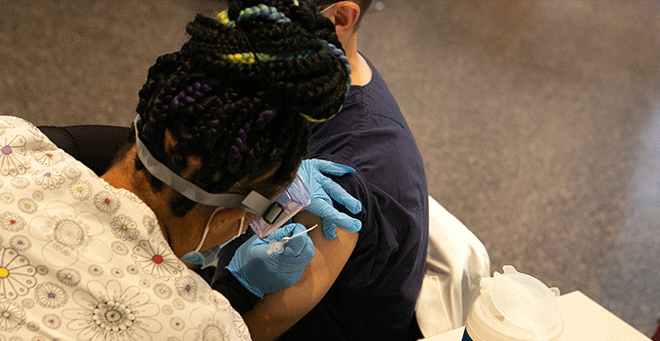 "Children's responses to vaccines can differ from those in adults," said principal investigator Katherine Luzuriaga, MD, the UMass Memorial Health Care Chair in Biomedical Research; vice provost for clinical and translational research; professor of molecular medicine, pediatrics and medicine; and director of the UMass Center for Clinical and Translational Science. "The goals of the trial are to evaluate the safety profile of the vaccine, to see whether adolescents make the same level of immune responses that were observed in adults and to see whether the vaccine protects against illness or infection."
Other key investigators are Nisha Megan Fahey, DO, instructor in pediatrics, and Lawrence M. Rhein, MD, MPH, the Stoddard Chair of Pediatrics, and chair and associate professor of pediatrics. The study team also includes Christina R. Hermos, MD, MMSc, assistant professor of pediatrics; Patricia McQuilkin, MD, professor of pediatrics; and Fei Jamie Dy, MD, assistant professor of pediatrics.
Dr. Luzuriaga said study participants will receive either vaccine or placebo (saline) in a 2:1 ratio. Those receiving vaccine will receive 2 doses of 100 micrograms each, given 28 days apart, as is authorized for adults. Participants will be followed up for one year following receipt of the second dose.
Researchers are trying to enroll teen participants broadly from across the community, particularly underserved racial and ethnic minorities that are most affected by COVID-19.
Luzuriaga said they will recruit from UMass Memorial clinics and are actively engaging with community partners in recruiting and enrolling study participants.
The study will be conducted at the UMass Center for Clinical and Translational Science Clinical Research Center in the Ambulatory Care Center on the University campus.
Related media coverage:
Worcester Business Journal: UMass Medical School to enroll for Moderna youth vaccine trial
NBC Boston: UMass Medical School to Begin Enrollment in Moderna's Teen COVID Vaccine Trial
Telegram & Gazette: UMass Medical School seeking teens to take part in Moderna clinical trial
CBS Boston, WBZ-TV: UMass Medical School to Test Moderna's Coronavirus Vaccine in Teenagers
The Boston Herald: Moderna on track to deliver 100 million vaccine doses by end of March, 200 million by June
NBC Boston: Moderna COVID Vaccine Clinical Trial for Teens Ramps Up
WGBH: Moderna Vaccine Trial in Teens to Begin In Worcester
WHDH: UMass Medical School to begin trial testing Moderna COVID-19 vaccine in teens
Related stories on UMassMed News:
Chancellor Collins and President Meehan call for COVID-19 Vaccine Corps in Boston Globe op-ed
COVID-19 vaccine trial reports high effectiveness; UMass Medical School key enrollment site
Top story: UMass Medical School announces participation and enrollment for vaccine trial candidate against COVID-19