New education and research building moves from excavation to construction
After months of excavation, demolition and relocation of underground utilities, construction of the new education and research building on the UMass Chan Medical School campus in Worcester has entered a new phase—building the actual structure.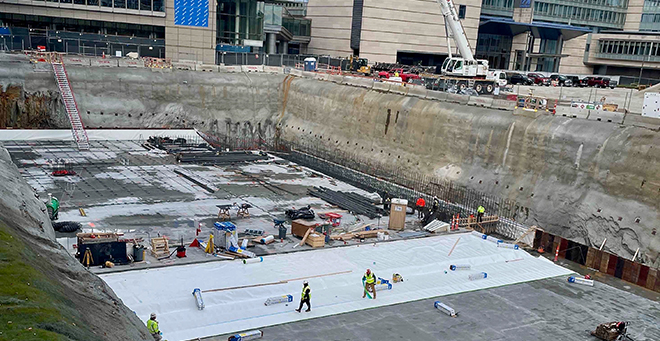 The last piece of excavation equipment on the site was lifted out by a crane last month and work is proceeding on the complex concrete foundation that will support the nine-story building.
"It's been a long year in many ways, so it feels good now to be building something new," said John Baker, associate vice chancellor for facilities management.
The building will sit at the center of the campus, adjacent to the Lazare Research Building and the Albert Sherman Center. It will expand research space on campus to accommodate a projected 77 principal investigators. The building will also have educational spaces and an FDA-compliant manufacturing facility to make novel therapeutics for clinical trials.
The general contractor for the project, Shawmut Design and Construction, mobilized in November 2020 and began several months of utility relocation work. Demolition of a significant portion of the West Garage was completed in the spring of 2021 to make room for the new building. Then, excavation of a 35-foot-deep foundation hole began, which included three months of bedrock blasting.
When the fractured rock was removed, the bottom of the site was leveled by chipping off high spots and filling low spots with a special mixture of concrete. Then a three-foot layer of crushed stone was spread over the site and compacted to create a base for the multi-layer foundation of concrete, steel rebar and composite waterproofing materials.
"It's taken a lot of hard work, from a lot of people, to keep this project on track," Baker said. "This is a big project, right in the middle of campus, so we appreciate everyone's patience and cooperation as construction continues."
The building is designed to meet high standards for energy efficiency and to incorporate sustainable construction practices, such as repurposing materials removed from the site. To that end, a total of 165 tons of steel and 8,280 tons of concrete were reclaimed by the site contractor during the garage demolition and will be processed for reuse as raw materials. That equates to 99 percent of all the material, by weight, removed from the garage.
During the excavation phase, approximately 52,000 tons of bedrock were removed and hauled off site in 1,575 tractor trailer loads. That rock will be crushed and reused as gravel in a variety of infrastructure and building projects around the region.
Work on the new building's foundation will proceed through March of 2022, followed by erection of the structural steel framework. For more information on the project visit https://www.umassmed.edu/NERB/
Related story on UMassMed News:
Top story: Nine-story biomedical research and education facility to be built at UMass Medical School