The Diversity and Inclusion Office, with support from UMass Medical School student leaders, hosted the first Learners of Color Orientation on Friday, Aug. 27, and Saturday, Aug. 28. Students from the Graduate School of Biomedical Sciences, Graduate School of Nursing and School of Medicine attended the event, which included a mixer Friday night at Mezcal Cantina in Worcester for students to get to know one another and a series of workshops on Saturday.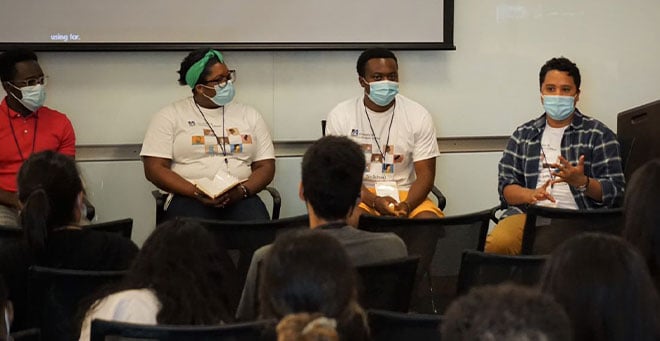 "It was so wonderful to see that there was a special orientation designed to make students of color feel welcome to the school and feel supported in higher education, which can be an extremely challenging journey for us," said GSN student Joshan Niroula.
Vice Chancellor for Diversity and Inclusion Marlina Duncan, EdD, welcomed participants on Saturday, and said it was important to introduce students to the various support structures and resources available to them while at the Medical School. She told them that the community—fellow students of color, faculty and staff alike—would accompany them through their tenure at the school.
Thematic workshops centered around health and wellness topics, acknowledging stress as inevitable in transitions but offering tools to cope. Other sessions included "Charting your academic and professional path," which gave tips on self-branding and the importance of finding mentors. The "Living your best life" session covered tips for managing finances, navigating the city and life on campus as an LGBTQ+ and/or a person of color.
"The orientation is setting up a safe space for students to reach out to the Diversity & Inclusion Office and other campus resources if they come across issues and challenges," said GSBS student Sophia Liu.
The inaugural event proved to be meaningful for students like Kassandra Marcelle Jean-Marie, SOM '24.
"I wish this event had existed last year when I was a first-year student," she said. "This event was like taking a deep breath after being underwater. In these spaces, we become the majority for a minuscule moment, and with this comes the ability to share our thoughts and experiences without filtering."
PhD candidate Cesar Bautista Sotelo, a leader of the Student Government Alliance Diversity, Equity and Inclusion Pillar, presented the health and wellness workshop, "Imposter or innovator?" Bautista encouraged students to remember that they belong and to take pride in their right to be at UMMS. He applauded the "great initiatives on campus spearheaded by many organizations, faculty and staff."
The positive responses from students met an organizing goal of creating a space for dialogue about ways to make UMMS a more diverse and inclusive place. The Diversity & Inclusion Office plans to host follow-up sessions for conversations that began at the orientation. For more information about these and other initiatives, email diversity@umassmed.edu.
Related stories on UMassMed News:
Scientific discovery propelled Cesar Bautista Sotelo on journey from Texas to Massachusetts
Diversity Summit highlights blueprint for diversity, equity and inclusion action
UMass Medical School selects Marlina Duncan to serve as vice chancellor for diversity and inclusion