Guangping Gao and Dan Wang partner with ASC Therapeutics to develop novel gene therapy for maple syrup urine disease
UMass Medical School researchers Guangping Gao, PhD, and Dan Wang, PhD, are working with ASC Therapeutics, a privately held biopharmaceutical company developing in-vivo gene replacement, gene editing and allogeneic cell therapies, to bring a gene therapy for maple syrup urine disease (MSUD) to the clinic.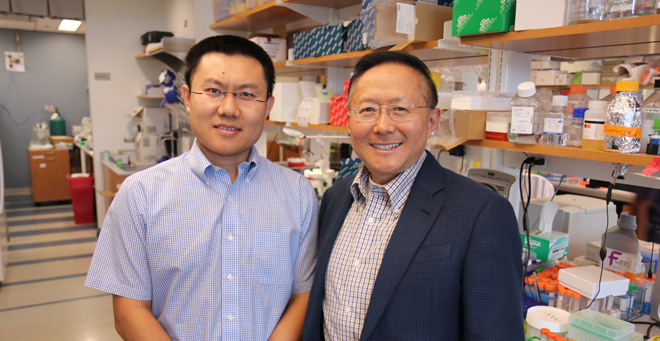 "Our significant progress developing an AAV-based therapy for MSUD will strongly benefit from this partnership by accelerating the progression of this much-needed treatment into the clinic. ASC Therapeutics' IND clearance by the FDA of a novel gene therapy for hemophilia A confirms their excellence, commitment and expertise in translating preclinical discoveries into clinical programs," said Dr. Gao, the Penelope Booth Rockwell Professor in Biomedical Research, professor of microbiology & physiological systems, director of the Horae Gene Therapy Center and co-director of the Li Weibo Institute for Rare Diseases Research.
Maple syrup urine disease is a rare genetic disorder affecting degradation of the branched-chain amino acids (BCAA) leucine, isoleucine and valine and their ketoacid derivatives. MSUD is caused when a mutated form of the BCKDHA, BCKDHB or DBT gene is inherited from both parents. As a result of this mutation, the body is unable to breakdown certain parts of proteins. This leads to the build-up of toxic substances that can cause organ and brain damage. There are several forms of MSUD. The most common is the classic or infantile form. Symptoms of the classic form of MSUD start in early infancy and include poor feeding, irritability, extra sleepiness and muscle spasms. If untreated, respiratory failure may occur. The symptoms of other forms of MSUD start in adolescence or adulthood.
A protein restricted diet and supplements are the mainstay of treatment but have insufficient efficacy and afford no protection against episodic and life-threatening encephalopathic crises.
In some cases, liver transplantation may be considered and is considered a cure.
Often diagnosed based on the results of a newborn screening test, MSUD gets its name because the urine of infants with MSUD smells like maple syrup.
Under the agreement, the research group at UMMS, led by Gao and Dr. Wang, assistant professor of RNA therapeutics, will develop multiple animal models for MSUD, as well as conduct pre-clinical testing using such animal models and proprietary AAV constructs. ASC Therapeutics receives an exclusive option on the selected constructs and intellectual property resulting from this partnership. ASC Therapeutics and UMMS will jointly conduct further IND-enabling studies, regulatory and manufacturing activities to obtain IND clearance and advance this program into clinical stage.
"We look forward to working with the UMMS team led by Dr. Gao and Dr. Wang, leading experts for the development and application of AAV technology. This partnership solidifies our gene therapy pipeline and will provide novel genetic therapies to patients with severe unmet medical needs worldwide," said Ruhong Jiang, PhD, CEO for ASC Therapeutics.
Related stories on UMassMed News:
UMMS establishes gene therapy collaborative research agreement with Pfizer
H-ABC Foundation partners with UMass Medical School and Yale to study gene therapy for H-ABC
Guangping Gao makes list of Nature Biotechnology Top 20 translational researchers