An interprofessional team of Graduate School of Nursing and School of Medicine students and faculty have been working remotely this year to address social determinants of health in the Dominican Republic.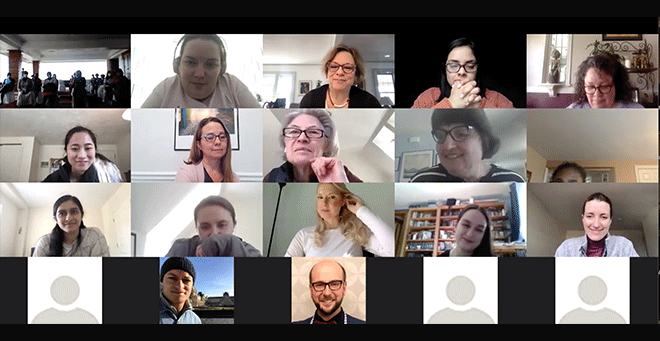 The UMass Medical School Dominican Republic Batey Health Initiative, now in its 15th year, kicked off its first virtual program last fall with the Population Health Clerkship, a two-week, team-based course for nursing and medical students, and is now running a spring optional enrichment elective, both of which address food insecurity and related health care needs of underserved migrant communities in the Dominican Republic. Participating students have been active in community-based research in the Dominican Republic, doctoral scholarly projects for both GSN/SOM capstones and PhD dissertation studies.
Bateyes are small rural settlements on sugarcane plantations that are home to Haitian and Haitian-Dominican migrant sugarcane workers and their families. Health issues common to this population include malnutrition, hypertension, HIV/AIDS and tuberculosis, which the Batey Health Initiative is working to address.
"I started volunteering in the Dominican Republic nearly 20 years ago," said Michele Pugnaire, MD, professor emeritus of family medicine & community health, former senior associate dean for educational affairs and SOM sponsor of the Batey Health Initiative. "Over time, our students began expressing interest. This vulnerable population has little to no access to basic amenities like sanitation, running water and electricity. As a student-faculty team, we strive to augment the health and well-being of the batey populations we serve through sustainable change, capacity building and empowerment, in partnership with local DR health care and nonprofit organizations."
In response to the COVID-19 pandemic, the Batey Health Initiative adapted its on-the-ground activities in the Dominican Republic to virtual, interactive and technology-enabled events conducted in real-time.
"We looked at the hierarchy of needs on the bateyes by joining forces with our partners on the ground in the DR. Our goal is to address the urgent acute needs due to food insecurity there. When we realized we wouldn't be able to head to the DR for the annual clerkship, we found alternatives and began coordinating virtual lectures and conferences," said Alaina Valcourt, a PhD student in the GSN and co-leader of the Batey Health Initiative.
The ongoing virtual conferences are attended by UMMS community members, Dominican Republic health promotors and nonprofit leaders. Teams of attendees strategize ways to improve care for residents, disease prevention methods and health education programs.
"We felt this was a good opportunity to aid the people on the bateyes while teaching global health practice and continuity of care," said Jean Boucher, PhD, RN, ANP-BC, associate professor of nursing and director of the Doctor of Nursing Practice program and GSN sponsor of the Batey Health Initiative. "Despite the pandemic, we've done a lot of community engagement and have evolved into a vast collaborative group."
The Batey Health Initiative focuses on four adopted bateyes in the Dominican Republic, prioritizing population-based prevention and community-based health care efforts. The team works closely with partnering nonprofit organizations including Good Samaritan Hospital and Light a Candle, coordinating supportive and educational programs in the Dominican Republic to assist people living on the bateyes.
"Our program is fundamentally based on relationships with our partners in the DR, and the fact that we are still able to make a difference is amazing," said Jillian Belgrad, MD/PhD student and co-leader of the Batey Health Initiative.
According to Valcourt, as a result of the pandemic the team explored to the many opportunities and benefits that stem from remote projects.
"Knowing we have virtual avenues is going to help our communications and strengthen our partnership going forward," she said.
Additional student co-leaders for the Batey Health Initiative include GSN students Heather Lovelace, FNP-BC, RN, and Mable Mason, RN; and SOM student Emily Chin.