UMass Medical School community pays tribute to Martin Luther King Jr. with celebration of service
Linda Long-Bellil honored with Chancellor's Award for Excellence in Institutional Diversity and Inclusion at the 33rd annual observance
At the 33rd annual UMass Medical School tribute to Martin Luther King Jr. on Tuesday, Feb. 2. Chancellor Michael F. Collins presented the 2021 Chancellor's Award for Advancing Institutional Excellence in Diversity and Inclusion to Linda Long-Bellil, JD, PhD.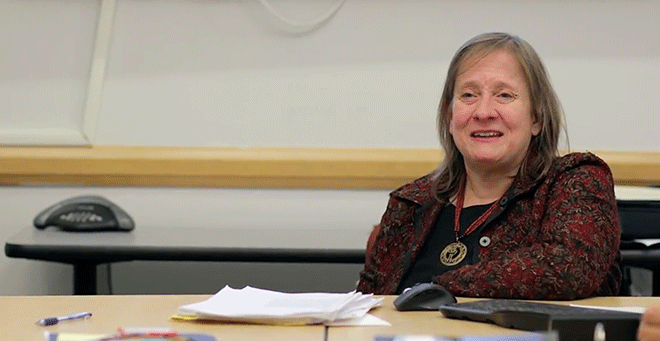 Dr. Long-Bellil is assistant professor of family medicine & community health and research consultant for Commonwealth Medicine, where she has directed research, policy and training projects related to health and employment of persons with disabilities for nearly two decades.
"Dr. Long-Bellil's impact extends across our medical school and broader health care communities," said Chancellor Collins, during the virtual event. "The arc of Linda's career is connected by a single mission: to enhance health care experiences and the quality of life for people with disabilities. "
Marlina Duncan, EdD, vice chancellor for diversity & inclusion, moderated the panel discussion "Disrupting inequity through structural change," in which panelists enumerated a multitude of initiatives at UMass Medical School to address disparities and advance equity at the institution and beyond.
Panelists were Milagros C. Rosal, PhD, the Imoigele P. Aisiku, MD'97 Chair in Health Equity and Diversity, professor of population & quantitative health sciences and vice provost for health equity; Matilde Castiel, MD, associate professor of medicine and commissioner of health and human services for the City of Worcester; Peter Cruz-Gordillo, MD/PhD student and University of Massachusetts student trustee; Mark D. Johnson, MD, PhD, the Maroun Semaan Chair in Neurosurgery, and chair and professor of neurological surgery; and Lisa Colombo, DNP, MHA, RN, executive vice chancellor for Commonwealth Medicine.
Terence R. Flotte, MD, the Celia and Isaac Haidak Professor, executive deputy chancellor, provost and dean of the School of Medicine, presented the 2020 MLK Semester of Service Awards to 26 students: Divya Bhatia, Lucinda Chiu and Pooja Gupta, SOM '21; Anushay Mistry and Elizaveta Reznichenko, SOM '22; Kimberly Burke, Sabahat Rahman, Sassicaia Schick, Diana Sibai and Michael Wang, SOM '23; Melanie Kossuth, GSN '23; Aya Abou-Jaoude, Carl Adams, Vanessa Avalone, Emmanuel Budis, Grant Garcia, Darya Herscovici, Paramesh Karandikar, Saurabh Kumar, Muhammet Ozdemir, Alex Richard, Sabine Shaughnessy, Omar Taweh, Nathan Yingling and Sarah Uhranowsky, SOM '24; and Carly Herbert, MD/PhD student.
The MLK Semester of Service Student Award initiative enhances health care education as it expands the impact and reach of UMass Medical School in the communities that surround the Worcester campus. The four projects funded with the $500 awards will expand support for adult refugees from Burma; offset elders' isolation during COVID; expand training for stopping life-threatening bleeding; and assist asylum seekers with trained medical interpreters for forensic evaluations.
Dean Flotte also presented the inaugural Equity in Action Student Award to Kenley Preval, MD/PhD student, and medical student Iha Kaul. Made possible by the UMass Medical School Class of 2020 Alumni Anti-racism Gift, the award recognizes the instrumental contributions of School of Medicine students in promoting equity and advancing antiracism within the UMMS community and the health care system by addressing bias in medical education.
"The work of Dr. King is not done. The events of the past year remind us of the urgent need to address inequities," said Dr. Duncan. Quoting Dr. King from his last speech, she closed with, "Let's continue to see it through, let's continue the work and let's continue to make sure this is not about individuals but about changing a system that can move towards more diversity, inclusion and equity."
Related story on UMassMed News:
2021 Martin Luther King Jr. Semester of Service awardees will address local health needs