A group of students in the Graduate School of Biomedical Sciences is working to represent and promote inclusion and diversity in higher education. The GSBS Diversity Interest Group is committed to developing a community of students to collaborate through the lens of social justice, equity and advocacy.
"This idea started from a group of first-year students back in 2011," said Brian Lewis, PhD, professor of molecular, cell & cancer biology, assistant vice provost of outreach and recruitment, and associate dean for diversity and prematriculation programs in the Graduate School of Biomedical Sciences. He also serves as a faculty advisor for DIG. "Through the years, these students have done an amazing job at linking their goals with current events and the needs of their peers."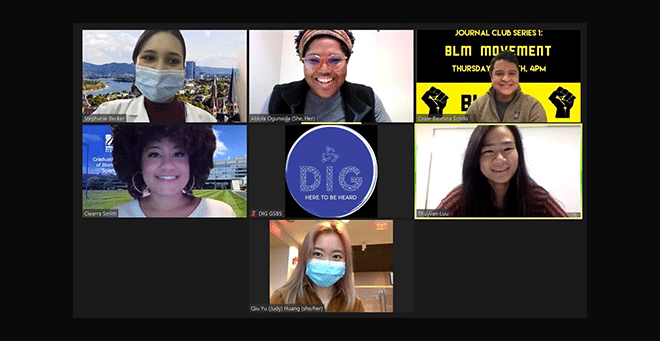 Ciearra Smith, PhD'20, postdoctoral associate in diversity, equity and inclusion for the GSBS, is a former co-president of DIG who has been involved since 2013. She still participates in the group's development and programming.
"Since I was a graduate student, DIG has remained a lively support for students, and it's greatly evolved and grown over time," she said.
The mission of the group is to develop awareness and education across the UMMS community to combat racism and intersectional forms of discrimination as they pertain to science and health care; implement community-building initiatives within the School of Medicine, Graduate School of Nursing and GSBS and the Worcester area; and advocate for trainee concerns regarding diversity and inclusion in the GSBS.
"We hold monthly meetings open to everyone in the tri-school community," said Abiola Ogunsola, MD/PhD student and DIG co-president. She is also co-president for the UMMS chapter of White Coats 4 Black Lives, an organization bringing active attention to racism as a concern in public health. "We're centered on sharing the voices of our fellow trainees and having their stories and experiences heard."
"DIG wants to not only help student recruitment, but also student retention," said Judy Huang, GSBS student and DIG member. Huang is a co-chair for diversity and inclusion on the Graduate Student Body Council. "It's a priority to not only increase opportunities and hold events, but to also help students get ahold of techniques they can use to leverage themselves in the field."
DIG has held coffee sessions for prospective students in collaboration with Society for Advancement of Chicanos/Hispanics and Native Americans in Science (SACNAS), a "Crime and Punishment" documentary screening, a self-care clinic, and a variety of panels led by students, faculty and fellows. As a result of the pandemic, the group found new ways to bring the UMMS community together, adjusting to remote settings.
"This was the GSBS's first time doing an in-house diversity recruitment event during the school's interview weekend," said Stephanie Becker, GSBS student and DIG co-vice president. "We'll be meeting with prospective students to give them a glimpse of what our school has to offer."
Recently, DIG started a Diversity and Injustice in Current Events and Science Journal Club, a virtual series of meetings fostering rich conversations and discussions.
"So far, we've held a session covering the Black Lives Matter Movement, and another covering racial disparities of COVID-19 and vaccine hesitancy," said Cesar Bautista Sotelo, GSBS student and DIG co-vice president.
"We want to take a deep dive into topics pertaining to privilege and discrimination, in the form of open dialogue discussions," said Thuyvan Luu, GSBS student and DIG co-president. "As scientists, we are used to looking at data. I think this is special because we can bring a unique perspective by looking at statistics and numbers."
Related stories on UMassMed News:
2021 Martin Luther King Jr. Semester of Service awardees will address local health needs
MD/PhD student Laël Ngangmeni dedicated to women's health equity and justice
GSBS students defend thesis research on Zoom ahead of virtual graduation on May 31