Saczynski concerned by report that many ICU patients develop Alzheimer's-like symptoms
Says cognitive decline after hospitalization calls for better prevention, more intervention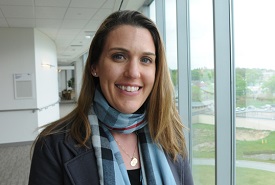 Jane Saczynski, PhD
The dramatic reports of a recent study concluding that delirium leads to lingering cognitive impairments in three out of four patients hospitalized in an intensive care unit are consistent with findings from similar research conducted at UMass Medical School.

"A bout of delirium during an ICU stay seems to put patients at a higher risk for long-term impairment," said neuroepidemiologist Jane Saczynski, PhD, associate professor of medicine, who in 2012 published results from a similar study of cognitive decline in patients hospitalized for cardiac surgery. "These findings are very similar to our paper about delirium and long-term cognitive impairment after cardiac surgery."


Both studies suggest that in-hospital delirium, once thought of as an acute, transient cognitive disorder, may have longer-term effects on cognitive function in patients.
Researchers at Vanderbilt University who conducted the new study, published in the Oct. 3 New England Journal of Medicine, were most astonished by their finding that symptoms are severe enough to mimic those of mild Alzheimer's disease and traumatic brain injury (TBI), and that as long as 12 months later, this level of impairment persisted in one out of four patients studied. The ICU study further found that the longer delirium lasted while a patient was hospitalized, the more severe and longer-lasting was their longer-term cognitive impairment.
"This is critically important because, even if someone develops delirium, if we can identify it early and reduce the duration, they'll have better cognitive outcomes," Saczynski noted.
Surprising to Saczynski was the consistency across age groups: deficits occurred in both older and younger patients and lingered for both, with the Alzheimer's and TBI-like symptoms persisting 12 months later in a quarter of all patients studied. "This counters the prevailing belief that delirium primary affects the elderly, and underscores that delirium is a risk factor for long-term impairment in a very broad patient population, not just surgical or older patients," she said. "The important take home message is to look for delirium and possible cognitive impairment in all hospitalized patients."
She also emphasizes the importance of engaging family members and caretakers in assessing patients' mental status, and involving them in preventive measures.
"It is often hard for the clinical team to identify delirium because they don't know what a patient is like at baseline," Saczynski explained. "The family can help identify subtle changes in the patient. They can help engage the patient, and the more engaged the patient is, the more it's going to be obvious when there is a change, and probably the less likely it is that some of these changes will go unnoticed."
Family members may also be better able than the clinical team to initiate simple delirium prevention measures like being sure a patient who wears glasses or a hearing aid has them in the hospital, and making sure that orienting materials such as clocks and calendars that are set to the correct date and time are in the patient's room. Saczynski, who received the 2013 Outstanding Junior Investigator Manuscript of the Year Award from the American Geriatrics Society, is conducting further research to help involve family members and caretakers in preventing and treating delirium.
"There are no good pharmacologic preventive measures or interventions for delirium, so it seems like behavioral interventions are the best approach, with the family playing a crucial role," she said. "Especially after patients go home from the hospital, family members can carefully watch them to make sure any cognitive changes resolve and that no additional symptoms of delirium develop."