Foreign Policy names Luzuriaga a 'Leading Global Thinker of 2013' for HIV research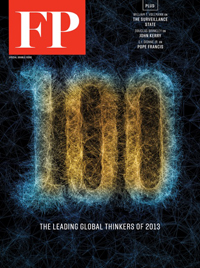 UMass Medical School immunologist Katherine Luzuriaga, MD, has been named to the list of Foreign Policy's 100 Leading Global Thinkers of 2013 for "bringing the world closer to a cure for HIV."
Dr. Luzuriaga, professor of molecular medicine, pediatrics and medicine, and an internationally recognized HIV scientist, shares the honor with colleagues Hannah Gay, MD, a pediatrician at the University of Mississippi Medical Center, and Deborah Persaud, MD, a virologist at Johns Hopkins Children's Center. They are credited with the first documented "functional" cure of a Mississippi baby with HIV.
The breakthrough development, which has garnered global headlines since it was announced at a scientific conference in March, was reported in the Oct. 23 New England Journal of Medicine. The baby, born to an HIV-infected mother who did not have prenatal care, received therapeutic antiretroviral treatment beginning 30 hours after birth. That therapy continued until about 18 months of age, when the child was lost to follow-up and off the drugs. Months later, the child returned to the hospital and underwent repeated standard blood tests, none of which detected HIV presence in the blood. Tests for HIV-specific antibodies—the standard clinical indicator of HIV infection—have remained negative for 18 months.
"When they broke this news in March, the three women who treated and documented her case became heroes," reports Foreign Policy in the 100 Global Thinkers of 2013 edition. "HIV was once a death sentence. Now, because of people like Gay, Luzuriaga, and Persaud, the virus is looking more vulnerable than ever."
In April, Luzuriaga, Dr. Gay and Dr. Persaud were named to the 2013 Time Magazine annual list of the 100 most influential people in the world.
"We are honored that our work has been recognized in circles beyond our scientific community," said Luzuriaga, Vice Provost for Clinical and Translational Research. "It has been a fabulous opportunity for us as scientists to engage policy makers in dialogue about how we can partner to provide the evidence base for policy decisions that affect the public's health and well-being."
Luzuriaga joined the UMMS faculty in 1990 and served as chief of the division of pediatric immunology, infectious diseases and rheumatology from 1999 to 2012. Her research, which has been consistently funded by the National Institutes of Health (NIH) over the past 20 years, focuses on the viral and immunopathogenesis of persistent viral infections in children, including human immunodeficiency virus (HIV) and Epstein-Barr virus. As a physician-scientist, she is passionate about translating research discoveries into practice. Internationally recognized for her research in preventing mother-to-child HIV transmission and for her work on early therapy for HIV-1 infected infants, Luzuriaga is the founding director of the UMMS Office of Global Health. She has also served as associate provost for global health since 2008.
Luzuriaga is a past recipient of Hood Foundation funding, as well as a Research Scholar Award and an Elizabeth Glaser Scientist Award from the Elizabeth Glaser Pediatric AIDS Foundation. A 10-year NIH Mid-Career Award provided support for her to mentor junior scientists in patient-oriented research and to lead the establishment of the UMCCTS Clinical Research Scholars Program, which provides mentored research support to young investigators transitioning from training to independent careers. Luzuriaga has held several leadership positions within the NIH-sponsored Pediatric AIDS Clinical Trials andIMPAACT(International Maternal Pediatric Adolescent AIDS Clinical Trials) Groups. She has served on NIH Study Sections, as a consultant to the World Health Organization, as a member of the Institute of Medicine's Committee on the Perinatal Transmission of HIV, and as a member of the NIH Office of AIDS Research Etiology and Pathogenesis Planning Committee