Different approaches, similar determination: Two UMMS researchers rock the scientific world
This story first appeared in the 2013 annual report edition of UMass Med Magazine, published in December.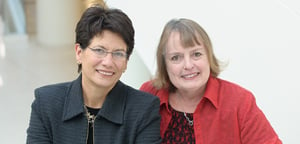 Reports of two scientific breakthroughs by UMass Medical School researchers and their colleagues continue to make international headlines, one involving a "functional" cure of a HIV-positive baby, and the other offering hope that the extra chromosome responsible for Down syndrome might be silenced. The researchers took very different approaches to tackling very different health issues—one a disease that is particularly deadly in low-resource settings, but can now be managed with expensive, life-long treatment; the other a genetic disorder with associated concerns such as congenital heart disease, leukemia and cognitive defects, with hundreds of overrepresented genes once deemed too complicated to tackle.
In fact, the only common denominators joining these two stories might be the similarly dogged determination of Katherine Luzuriaga, MD, professor of molecular medicine, pediatrics and medicine (at left), and Jeanne Lawrence, PhD, interim chair and professor of cell & developmental biology, and the institutional culture of support and creativity at UMMS that nurtured their different pathways to success. They also both benefited from extensive National Institutes of Health funding and sustained support from colleagues on campus and around the country.
Dr. Luzuriaga, who has worked for 20 years with researchers around the world to end the HIV/AIDS epidemic, came to UMMS through a mentored fellowship. Thanks to a framework provided by the NIH and other funders, she and her collaborators may have uncovered evidence that aggressive treatment hours after birth has the potential to save the youngest HIV patients from the burden of life-long antiretroviral treatment, and she is optimistic that future research will show promise for adults as well.
In contrast, Jeanne Lawrence, PhD, interim chair and professor of cell & developmental biology, worked independently on an out-of-the-box approach to genetic research, fueled by a personal interest in improving the lives of people with developmental disabilities. While she has kept her work largely confined to the Worcester campus, the outcome of her research has wide implications, as a better understanding of the genetic pathways that underlie the syndrome may lead to a new route to gene therapy for myriad other genetic conditions, including Alzheimer's disease.
Both of these breakthroughs lay crucial groundwork for a better understanding of health issues once thought too complex to solve. UMass Medical School's institutional culture of support encourages all UMMS researchers to remain optimistic as they look for new approaches, new answers, new hope.