Universities can help state Medicaid programs manage health care transformation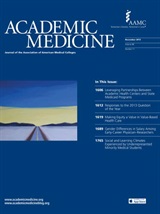 At a time when the health care landscape seems to be changing by the day, partnerships between universities and state Medicaid programs may help serve the missions of both.
That's the message of a column in the latest edition of Academic Medicineauthored by Jay Himmelstein, MD, MPH, professor of family medicine & community health and chief health policy strategist for UMass Medical School's Center for Health Policy and Research, and Andrew Bindman, MD, professor of medicine and health policy and director of the California Medicaid Research Institute at the University of California Medical School.
States expanding Medicaid as a result of the Affordable Care Act will have to manage a number of new requirements as they seek to cover previously uninsured residents. These operational requirements will come at a time when many Medicaid agencies are stretched thin and not properly resourced to manage rapid growth.
The authors wrote that based on their experience at their own institutions, universities are well-positioned to help state Medicaid programs by offering valuable expertise in areas such as medicine, law, nursing, public health and economics. They also make the case that these partnerships provide important opportunities for academic institutions and faculty in the form of research and applied practice opportunities, along with access to funding sources not always available to universities.