Medical and nursing students take national stage at public health conference
Community projects aim to improve newborn care, reduce adolescent obesity
Seven medical and nursing students have been honored by the American Public Health Association for their projects addressing important public health issues. They were selected to make poster and oral presentations at the APHA's annual meeting held recently in Boston.
Along with faculty advisors and community partners, the UMMS students shared their results from the 2012 Population and Community Health clerkship, a curricular requirement for all second-year School of Medicine (SOM) and Graduate School of Nursing (GSN) master's students.
"Participating in the conference was a great experience," said medical student Josiah Bote. "I would definitely encourage future students to submit their work.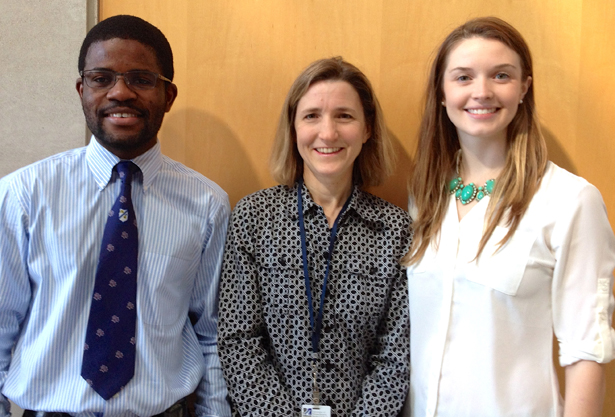 SOM '15 students Josiah Bote (left) and Lauren Veit (right), who participated in the Parenting and Family Stability clerkship, presented "Development of an evaluation tool for providers of maternal child health nursing visits" with obstetrician Heather Alker, MD (center), who is a second-year preventive medicine resident in the Department of Family Medicine & Community Health. The group developed and tested a user friendly checklist to help Pernet Health Services better identify and meet the needs of new mothers and their babies. The team learned that home visits are an important resource for low-income families, and the tool provides Pernet, a community agency that supports Worcester-area families that are at risk for poor health outcomes due to poverty, with a systematic way to gather data and assess outcomes.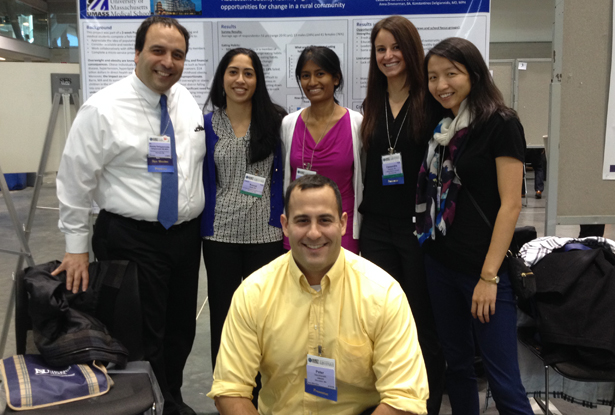 Members of the interprofessional Adolescent Obesity in Rural Settings clerkship group (standing from left) Konstantinos Deligiannidis, MD, PhD, assistant professor of family medicine & community health; Komal Shah, SOM '15; Nithya Setty, SOM '15; Cassandra Carlson, GSN '15; Carrie Chong Wu, SOM '15; and (front) Peter Vecchiarelli, GSN '15, presented "Adolescent obesity: Identifying readiness and opportunities for change in a rural community." The group collaborated with the Barre Family Health Center, a UMMS family medicine residency site where Dr. Deligiannidis practices, to identify and determine social readiness and resources available for change in a rural community with a high rate of overweight adolescents. Through a survey conducted at the health center, key-informant interviews with various community stakeholders, and focus groups in the local high school, they concluded that new partnerships between community health leaders, public schools and other stakeholders are needed to help empower adolescents to take charge of their own health.
Related links on UMassMedNow:
Nurses and doctors in training run free flu clinic at Veterans Inc.: Community and population health focus of service learning project during National Primary Care Month
Medical and nursing students focus on veterans: Military population has specific health care needs