Boyer on CNN: Naloxone not the answer to drug epidemic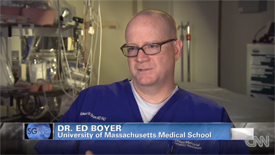 Communities across the country are debating whether Naloxone—a drug that can counter the effects of an overdose—should be widely available to non-medical first responders, but UMass Medical School toxicology expert Edward Boyer, MD, PhD, warned CNN's Sanjay Gupta of the downside of doing so.
Dr. Boyer, professor of emergency medicine, said the drug doesn't always work.
"It requires people understand that the medications last longer; the medications may be more potent that individuals anticipate," Boyers said, in a CNN segment that aired Nov. 3. "The absolute need to call 911 has to be made clear."
Watch the full report at: CNN: Coming back from the dead. An antidote for the prescription drug epidemic?