Boston Globe Magazine profiles nine UMMS medical students
Photo essay explores how future doctors are choosing career paths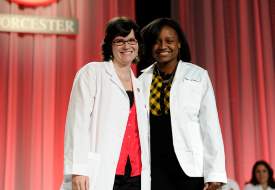 Burncoat House faculty member Jennifer Bram, MD, pauses with Soana Laguerre at the White Coat Ceremony in 2010.
The Oct. 13 Boston Globe Magazine features a photo essay on nine fourth-year medical students from UMass Medical School.


The story, released online ahead of print, highlights the School of Medicine's focus on primary care education. Medical students were asked how they chose their career track and whether potential salaries played a factor in their decisions.
"There's no way to explain the satisfaction you get when you help a family," Chancellor Michael F. Collins told the Globe, in the story. "You can't put a dollar figure on that."
Soana Laguerre plans to go into the field of obstetrics and gynecology.
"Delivering babies is really thrilling, and I'll get to do a lot of that, and I can develop long-term relationships with patients," Laguerre says in the story. "Pay disparity played no role in my decision, although it is important to address. As long as I could pay off my debt and provide for my family in the future, I'm a happy woman."
Nicholas Avgerinos, Odette Taha, Paula Hercule, Daniel Wemple, Andrea Posa, Courtney Sullivan, Kathleen Goble, Dimas Espinola and Laguerre are featured in the piece.
Read the full story at:
Boston Globe Magazine: Picking a career path