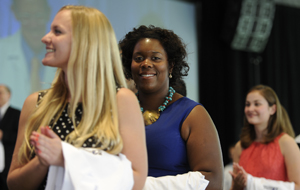 Welcome to the University of Massachusetts Medical School (UMMS), the commonwealth's first and only public academic health sciences center.
Our mission is to advance the health and well-being of the people of the commonwealth and the world through pioneering education, research and health care delivery along with clinical partner UMass Memorial Health Care, the largest health care provider in Central Massachusetts.
UMMS was founded in 1962 to provide affordable, high-quality medical education to state residents and to increase the number of primary care physicians practicing in underserved areas of Massachusetts. Consistently ranked by U.S. News & World Report as one of the leading medical schools in the nation for primary care education, we're also a research powerhouse, withfederal and private research grants and contracts exceeding $240 million in fiscal year 2013. Enhancing health and science education, ensuring community health, building a diverse workforce and enriching lives through extensive community outreach are all parts of our mission.
The three UMMS graduate schools are the School of Medicine, the Graduate School of Biomedical Sciences and the Graduate School of Nursing.
The School of Medicine is committed to training in the full range of medical disciplines, with an emphasis on practice in the primary care specialties, in the public sector and in underserved areas of Massachusetts.
Graduate School of Biomedical Sciences students receive a broad background in the basic medical sciences and are trained in their selected specialty area in preparation for research with direct relevance to human disease.
The Graduate School of Nursing offers master's, post-master's and doctoral degrees, providing high quality education to prepare registered professional and advanced practice nurses within nurse practitioner and nurse educator specialties and for faculty, research and other nursing leadership positions.
We are a world-class research institution, consistently producing major advances in clinical and basic research.
In 2006, the Nobel Prize in Physiology or Medicine was awarded to UMMS professor Craig C. Mello, PhD, and his colleague Andrew Fire, PhD, of Stanford University, for their discoveries related to RNA interference (RNAi), a cellular process that offers astounding potential for understanding and, ultimately treating, human disease.
Our researchers have made pivotal advances in HIV, cancer, diabetes, infectious disease, and in understanding the molecular basis of disease.
Centers and programs of distinction include the RNA Therapeutics Institute, the Center for Gene Therapy, the Program in Gene Function and Expression and a new Neurotherapeutics Institute headed by leading ALS researcher Robert H. Brown, Jr. DPhil, MD.
A brief history of UMass Medical School: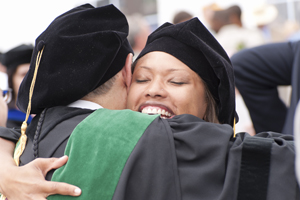 A state-supported public medical school for Massachusetts was established by the commonwealth in July of 1962. The founding dean, Lamar Soutter, MD, was appointed in December of 1963 and began the execution of a vision for an extraordinary medical school.
"I think that if you're starting a medical school from scratch," he said at the time, "you can say alright, let's get this science of medicine very firmly rooted in the students' minds—but then let's take them back to the bedside and make them much better practitioners and much more interested in taking care of human beings even though they are making full use of laboratory procedures and scientific advances."

Although the campus location in Worcester wasn't selected until 1965, preliminary accreditation and the recruitment of core faculty during the construction process meant that the first class of 16 students entered in the fall of 1970, beginning their studies in a former warehouse at the corner of Lake Avenue and Belmont Street (a building still used by UMMS today). By the time the first class graduated in 1974, the new medical science building was in use, followed by the teaching hospital, which opened in 1976. The growth of the school and its clinical system coincided neatly with support for basic science research and, while the school remained true to its mission of training primary care physicians, by 1979 it had established a PhD program in the biomedical sciences, which became a school in its own right, followed by the Graduate School of Nursing, which opened in 1986.

A period of expansion began in 1990 with the appointment of Aaron Lazare, MD, as dean and, subsequently, chancellor. Dr. Lazare would go on to become one of the longest-serving leaders of a medical school in the United States by the time he stepped down in 2007. With the acquisition of the former Worcester Foundation for Biomedical Research and the Massachusetts Biologic Laboratories, and the spinoff of hospital operations into a new clinical system, the campus entered a period of unprecedented growth. A new research building opened in 2001 and the original medical school and hospital buildings were extensively renovated and expanded to include new meeting, educational, emergency department and surgical spaces. Research funding grew for a time at a rate faster than any other academic health sciences center in the country, fueled by recruitment of basic science faculty drawn to UMMS' prominence in several fields, including gene function and expression; gene development; biochemistry; and molecular medicine. In 2006, UMMS professor Craig C. Mello, PhD, won the Nobel Prize in Medicine, shared with Stanford researcher Andrew Fire, PhD, for their discovery of the mechanism of gene silencing by double-stranded RNA, which they termed 'RNA interference.'


The Nobel Prize drew attention and support to UMMS throughout the commonwealth. The University of Massachusetts created a Life Sciences Task Force that proposed a series of strategic investments in biomedical sciences education, research and infrastructure across the five campuses; many of these recommendations were mirrored in the Commonwealth's own Life Sciences Initiative, a 10-year, billion-dollar plan for investment. The Life Sciences Task Force was chaired by Michael F. Collins, MD, at the time interim chancellor at UMMS and senior vice president for the health sciences at the university. Along with Terence R. Flotte, MD, a prominent figure in the field of gene therapy, who became UMMS' eighth dean in 2007, Dr. Collins has overseen the latest phase in campus development and investment, including the expansion of the medical school class size to its current cohort of 125; investment in educational technology and infrastructure, and expansion in clinical and translational science, which began with the establishment of a PhD program in Clinical and Population Health in 2005; the creation of the Department of Quantitative Health Sciences in 2009; and the receipt of an National Institutes of Health Clinical and Translational Award in 2010.
Two major facilities investments on the UMMS campus have laid the groundwork for the next generation of life sciences education and research: the 278,000 square-foot Ambulatory Care Center, home to Centers of Excellence in Diabetes, Cardiovascular Medicine, Musculoskeletal Disease and Cancer, which opened in 2010; and the 500,000 square foot Albert Sherman Center, which opened in 2013 to house state-of-the-art facilities for medical education, including homes for the learning communities; the standardized patient program; dedicated seminar and conference space; and six floors of wet and dry laboratory space for new research initiatives in population health, RNA biology, gene therapy and neurodegenerative disease.
Milestones
1962: Legislation establishes University of Massachusetts Medical School
1970: First medical students begin classes in Shaw Building
1974: First class graduates 16 MDs
1979: PhD program begins
1986: Graduate School of Nursing opens
1986: PhD program becomes Graduate School of Biomedical Sciences
1994: Graduate School of Nursing initiates PhD program
1998: UMass Clinical System and Memorial Health Care merge to form UMass Memorial Health Care
2001: Lazare Research Building opens
2002: Campus modernization begins on the University Campus
2004: Graduate Entry Pathway Program established at the Graduate School of Nursing
2005: PhD Program in Clinical & Population Health Research established at the Graduate School of Biomedical Sciences
2005: Massachusetts Biologic Laboratories opens new manufacturing and filling facility in Mattapan
2006: Craig Mello, PhD, Blais University Chair in Molecular Medicine and Howard Hughes Medical Institute Investigator, is awarded the Medical School's first Nobel Prize. Dr. Mello shared the 2006 Nobel Prize in Physiology or Medicine with Andrew Fire, PhD, of Stanford University, for their discoveries related to RNA interference.
2007: Michael F. Collins, MD, is named chancellor and Terence R. Flotte, MD, is named dean of the School of Medicine.
Fall 2009: Groundbreaking for the Albert Sherman Center, a 500,000-square-foot research and education facility
2010: Ambulatory Care Center opens
2013: Albert Sherman Center opens