Wachholtz finalist for Mitchell Max Pain Research Award
Presented poster on meditation for migraines at NIH Pain Consortium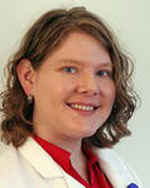 Clinical psychologist Amy Wachholtz, PhD, MDiv, was recognized by the National Institutes of Health Pain Consortium as one of three finalists for the NIH's Mitchell Max Award for Pain Research. As a finalist, Dr. Wachholtz, assistant professor of psychiatry, and director of health psychology for UMass Memorial Medical Center, was an invited speaker at the consortium's annual symposium, held last month at NIH headquarters in Bethesda.
Wachholtz's poster and talk "Brief Meditation Training for Migraineurs Affects Emotional and Physiological Stress Reactivity" was based on her study Meditation-Based Treatment Yielding Immediate Relief for Meditation-Naïve Migraineurs, published in Nursing Pain Management in June 2012. Study participants, who each suffered two to ten migraines per month and had never tried meditation, reported a 33 percent decrease in pain and a 43 percent decrease in emotional tension after just one 20-minute session of guided meditation. This suggests that a single exposure to a meditative technique can be an immediate, effective intervention that can significantly reduce pain and tension.
This work exemplifies the NIH Pain Consortium symposium's theme "Integrated Self-Management Strategies for Chronic Pain," which focused on ways to implement the recommendation to promote and enable patients' self-management of pain, made by the Institute of Medicine in its 2011 report "Relieving Pain in America."
Wachholtz is honored to be one of only three pain researchers in the country selected through a review of all the numerous research abstracts in the NIH database with the keyword "pain." With clinical and research interests in the social and spiritual, as well as biological and psyochological, management of chronic pain disorders, she also studies the intersection of chronic pain and opioid addiction, and prayer as a means to manage pain.