Djade Soumana awarded NIH grant and HOPE Scholarship
Schiffer lab member strives to reduce disparities in hepatitis C treatment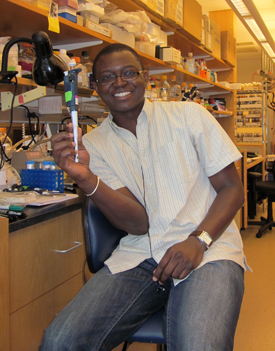 UMass Medical School student Djade Soumana has received two prestigious research awards: a Ruth L. Kirschstein National Research Service Award for Individual Predoctoral Fellows from the National Institute of General Medicine (NIGM), and a HOPE Scholarship from the Biomedical Science Careers Program (BSCP). Soumana is a third-year Graduate School of Biomedical Sciences student studying hepatitis C drug resistance in the laboratory of Celia Schiffer, PhD, professor of biochemistry & molecular pharmacology.
The three-year, $85,000 NIGM award will support Soumana's doctoral project "HCV protease: From atomic mechanism for drug resistance to novel drug design." The protease inhibitor drugs that are currently available are, for reasons not understood, only effective on patients in the west. Soumana is studying the molecular interactions of these drugs with forms of the hepatitis C virus that predominantly infect the rest of the world, with the goal of developing more effective drugs to battle the HCV pandemic that infects an estimated 170 million people globally.
The BSCP awards HOPE scholarships to New England students from backgrounds underrepresented in health care who have demonstrated achievement in biomedical, biotechnology or other health science-related fields. Soumana received the two-year, $7,500 award at the BSCP's 16th annual Evening of Hope in Boston on May 8.
UMMS students previously awarded HOPE scholarship were Yendelela Cuffee, PhD, GSBS '12; and Charisa Cottonham, MD, SOM '11.