Mock codes provide nurses with real-life training
Interprofessional day teaches communication and clinical skills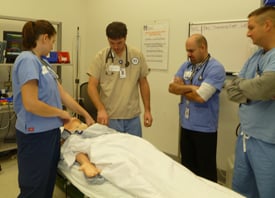 RNs Susan Hernandez, Reid McMullen, Michael Spiros and Brian Hill prepare for a mock code as part of the GSN's Interprofessional Simulation Day.
Feeling a scary fluttering in his chest, the 79-year-old man called for the nurse on duty. "What's happening to me? Am I going to be all right?" asked the man, who was in the hospital recovering from pneumonia and had a history of a prior heart attack. His blood pressure was high at 142/56 and it was vital to determine the cause of his irregular heartbeat as quickly as possible.


That was the scenario encountered by one of the teams that participated in the Graduate School of Nursing's Fall Interprofessional Simulation Day last week. The intensive course lasted several hours and provided hands-on training in managing various acute-care emergencies in a hospital setting.
The teams comprise new graduate nursing students, registered nurses (RNs) in the master's program— including nurse practitioner and nurse educator students—and pharmacy residents. SimMan, the mannequin that plays the patient, is controlled by Johnny Isenberger, NP, instructor in the GSN and a nurse practitioner in critical care at UMass Memorial Health Care. Hidden behind a one-way mirror, Isenberger speaks for SimMan, and plays other roles such as a family member or specialist reached by phone. He can change SimMan's blood pressure or heart rate, or even adjust the sounds coming out of his chest or stomach, managing his vital signs viewed on the monitor.
Most of all, the course is a unique opportunity for students to interact as an interprofessional team. "These urgent situations are the most stressful, so it's important that students experience them as close to the real thing as possible," said Dawn Carpenter, DNP, ACNP-BC, who leads the program. Carpenter is assistant professor and coordinator of the GSN's adult-gerontology acute/critical care nurse practitioner track.
The session begins with a classroom-based review of heart rhythm disorders and how to diagnose them from an electrocardiogram, or EKG, reading. Next, a pharmacy resident goes through the contents of the bright red code cart and leads a discussion of the relevant medications and their proper use. Most of the participating nurses are already working in clinical settings as they complete their coursework, so they can also share their real-life experiences with each other.
Then, it's down to the Simulation Center to run through a couple of scenarios with SimMan. For each one, the RNs will be the first by the patient's side, followed by the nurse practitioners and pharmacy resident, and then the entire group works together as the crisis unfolds. "This was the first time I've trained with a pharmacist," said Susan Hernandez, an RN who completed the GSN's Graduate Entry Program (GEP) last year. "I was glad to have that opportunity." Michael Spiros, also an RN and GEP student, said. "It provides a good environment for us to practice our communication skills while we are using our clinical skills."
The teams are much larger than a typical code team, so there is often some confusion at first. "But they always catch on quickly, and by the second time they run a scenario things go much more smoothly," said Carpenter.
After each scenario concludes there is a debriefing process that includes an appraisal and then more discussion about what certain symptoms may mean, how medications work and the dynamics of working as a team. Christine White, a student in the nurse educator program, watched Thursday's scenarios and was among those who provided feedback. The fast-paced course thus delivers a lot of information and a chance to work with professionals they haven't trained with before. "One of the key features of this graduate program is interprofessional training, which helps make you a well-rounded nurse practitioner," said Shannon Link, an RN in the nurse practitioner master's program who participated in the course.