Cutlers endow biomedical research chair; Kiefe is first recipient
Catarina Kiefe named inaugural Melvin S. and Sandra L. Cutler Chair in Biomedical Research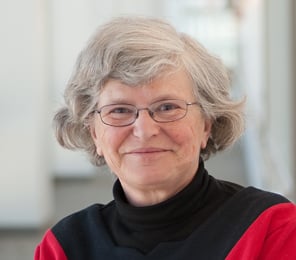 Catarina Kiefe, MD, PhD
Melvin Cutler and his wife, Sandra, long-time champions of the Worcester Foundation for Biomedical Research, have generously endowed the Melvin S. and Sandra L. Cutler Chair in Biomedical Research in support of innovative basic science research at UMass Medical School. In conjunction with the gift, Catarina Kiefe, MD, PhD, chair and professor of quantitative health sciences, has been named the inaugural Cutler Chair in Biomedical Research.


"The support of local philanthropists like Mel and Sandy Cutler are a vital component of our thriving biomedical research enterprise," said Chancellor Michael F. Collins. "Their generous support will provide the financial flexibility for faculty members, such as Dr. Kiefe, to pursue novel research ideas that might otherwise take years to get funding through traditional avenues. It's this freedom to seek new discoveries unencumbered that often serves as a critical starting point for new cures and treatments for disease. UMass Medical School is fortunate to count the Cutlers as two of our most ardent and passionate supporters."
Endowed positions at UMMS provide an opportunity for private donors to support a specific area of academic excellence and scientific pursuit. They increase the University's ability to retain the very best faculty and attract individuals distinguished in their fields. UMMS has 33 endowed positions that further the work of innovative and dedicated faculty members who strive to bring cutting edge research to bear on some of the most devastating human diseases of our time.
"The discoveries being made at UMass Medical School are poised to fundamentally change how we treat disease," said Mel Cutler. "My hope is this work will ultimately lead to new cures and treatments for patients, thereby reducing the suffering of future generations."
A design-build entrepreneur, Mel Cutler graduated from City College of New York with a degree in civil engineering and established Cutler Associates, a full-service, design-build construction firm, in Worcester in 1972. Since its founding, the company has grown into a widely respected operation with employees in Massachusetts and Florida. In 2003, Cutler founded Cutler Capital Management LLC, an investment advisory firm specializing in convertible securities and real estate investment trusts. He was a founder and treasurer of Flagship Bank & Trust in Worcester, a founder and chairman of Madison Bank in Palm Harbor, Fla., and a founder of Jefferson Bank in Oldsmar, Fla.
"I am honored to be the first recipient of the Cutler Chair in Biomedical Research," said Kiefe. "Mr. Cutler's gift will allow us to complement our current funding sources and augment our overall efforts to develop new, fundamental insights that will drive the improvement of health care quality and outcomes for patients."
Kiefe is a highly regarded scientist, clinical epidemiologist and internist who has published extensively in the fields of health care quality measurement and outcomes research. She was recruited to UMass Medical School in 2009 as chair of the newly created Department of Quantitative Health Sciences (QHS). Previously, Kiefe was professor of medicine and biostatistics, director of the Division of Preventive Medicine and founding director of the Center for Outcomes and Effectiveness Research at University of Alabama at Birmingham School of Medicine.
Her primary research interests are health disparities and measuring and improving health care. She is principal investigator on a five-year, interdisciplinary grant funded by the National Heart, Lung and Blood Institute (NHLBI) to develop new methods that activates patients, physicians, and healthcare systems to improve outcomes for survivors of acute coronary syndrome hospitalizations. Recently, she was principal investigator on an NHLBI-funded, five-year partnership grant to reduce cardiovascular disparities, and has been principal investigator or co-principal investigator on multiple federally funded research projects to advance the science of implementation of evidence into practice.
A long-time supporter of UMMS, Mel Cutler is a member of the Hudson Hoagland Society and has served as a trustee for the Worcester Foundation for Biomedical Research. Cutler contributed to UMMS Annual Research Grant program in 2010 to support young investigators and their independent research. In 2002, he established the Cutler Award, which supported the work of Phillip D. Zamore, PhD, Howard Hughes Medical Institute Investigator, the Gretchen Stone Cook Chair of Biomedical Sciences and professor of biochemistry & molecular pharmacology, who was then an assistant professor of biochemistry & molecular pharmacology. The Cutler award allowed Zamore to hire lab staff to pursue an avenue of research related to the biochemical machinery behind RNA interference (RNAi) or gene silencing. RNAi was a relatively new field at the time and is now recognized as one of the most remarkable discoveries in contemporary science.
UMMS endowed positions
Harry M. Haidak Professorship in Surgery
Arnold F. Zeleznik Professorship in Psychiatry
Celia and Isaac Haidak Professorship in Medical Education
Richard M. Haidack Professorship in Medicine
Irving S. and Betty Brudnick Chair in Psychiatry
William and Doris Krupp Professorship in Medicine
Dr. John Meyers Professorship in Primary Care Medicine
George F. Booth Chair in the Basic Sciences
Eleanor Eustis Farrington Chair in Cancer Research
Arthur M. Pappas, MD, Chair in Orthopedics
H. Arthur Smith Chair in Cancer Research
Vitold Arnett Professorship in Cell Biology
Edward Budnitz, MD, Professorship in Cardiovascular Medicine
David J. Freelander Professorship in AIDS Research
Gerald L. Haidak, MD, and Zelda S. Haidak Professorship in Cell Biology
Lambi and Sarah Adams Chair in Genetic Research
Barbara and Nathan Greenberg Chair in Biomedical Research
Gladys Smith Martin Chair in Oncology
Barbara Helen Smith Chair in Preventive and Behavioral Medicine
Higgins Family Professorship in Neuroscience
David J. and Barbara D. Milliken Professorship in Preventive Cardiology
Arthur F. and Helen P. Koskinas Professorship in Biochemistry & Molecular Pharmacology
Blais University Chair in Molecular Medicine
Robert M. and Shirley S. Siff Chair in Autism
Gretchen Stone Cook Chair in Biomedical Sciences
Leo P. and Teresa M. LaChance Chair in Medical Research
Ali and John Pierce Chair in Pediatric Hematology/Oncology
Joy McCann Professorship for Women in Medicine
Isadore and Fannie Foxman Chair in Medical Research
Silverman Chair in Natural Sciences
Penelope Booth Rockwell Chair in Biomedical Research
Mary C. DeFeudis Chair in Cancer Care and Research
Mel S. and Sandra L. Cutler Chair in Biomedical Research