Calendar sales support Nicaraguan medical student exchange
Children of the World a charitable project of the Global Health Pathway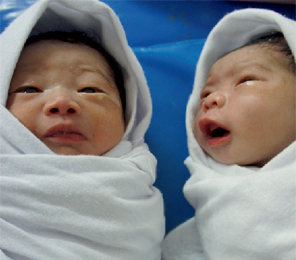 For the fifth year, the Children of the World calendar produced by the Program in Global Health features photographs taken by School of Medicine students during international travel and study experiences, with proceeds benefitting a variety of humanitarian causes. This year, all proceeds from sale of 2013 calendars will again enable two medical students from Nicaragua to travel to Worcester for clinical rotations.
Nicaragua is one of the international destinations where students in the Multicultural Pathway and family medicine residents in the global health track can study and work, thanks to cooperation from the Autonomous University of Nicaragua (UNAN). This academic year, for the first time, UMMS was able to reciprocate by bringing two UNAN fourth-year medical students to Worcester.
"UNAN does not charge for its help with clinical placements and research projects for our residents and students, but they have requested that UMMS bring a couple of their students here for fourth-year electives and pay their expenses," said Michael Godkin, PhD, professor of family medicine & community health and medicine, and director of the UMMS Program in Global Health. "Through proceeds from the Children of the World calendar sales we were able to cover all travel-related, housing and daily-living expenses for this year's visitors."
"My time in Nicaragua was formative and allowed me the opportunity to experience caring for patients in a health care system with limited resources," said Sebastian Ramos, SOM '14, who traveled to UNAN last summer. "Speaking to the physicians and residents I worked with, I quickly came to realize that one of the most impactful ways of improving medical care in Nicaragua is to give their medical students and residents the opportunity to train in the United States. "I strongly support UMass funding Nicaraguan medical students to have the opportunity to come here, learn with us, teach us and hopefully return with a fresh and broader perspective of how to care for others, much like I did during my visit to Nicaragua."
"The UNAN exchange is one of our greatest accomplishments in the global health track," said Dr. Godkin. "It takes a lot of help from a lot of people to get these students here, but we're doing it."
To order calendars, which cost $20 each, contact Sherrie Carey: sherrie.carey@umassmed.edu.