Miller named fellow of the American Academy of Nursing
Graduate School of Nursing faculty receives one of profession's highest honors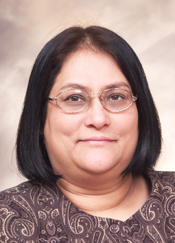 Kathleen Miller, EdD, received one of the nursing profession's highest honors when she was inducted as a fellow of the American Academy of Nursing (AAN) at a ceremony held at the Academy's 39th Annual Meeting and Conference in Washington, DC. Comprising 1,800 of the nation's top nurse researchers, policy makers, scholars, executives, educators and practitioners, the AAN inducted 176 new fellows in 2012, the largest class of inductees yet. Dr. Miller has the distinction of being the first nursing faculty member from UMass Worcester to receive this honor during her tenure at the Graduate School of Nursing.
"I am honored to be recognized by my professional nursing colleagues for my work at the GSN in geriatric education, research and practice," Miller said. "I look forward to making continuing contributions to improve health care outcomes for older adults."
Associate dean for clinical scholarship, diversity and evaluation in the GSN, Miller is also professor of nursing and medicine. Selection criteria for the FAAN designation include evidence of significant contributions to nursing and health care; selection is based, in part, on the extent to which nominees' nursing careers have influenced health policies and the health and well-being of all.
Miller, a pioneer in developing curricula to prepare geriatric advanced practice nurses in primary and acute care, has overseen foundation and federally funded geriatric nursing initiatives of the GSN including scholarships and traineeships for students. Additionally, she has recently been awarded a third cycle of funding for the education of nursing and interprofessional providers caring for older adults in a federally qualified health center, correctional health settings and facilities serving medically underserved populations. Co-principal investigator of the Rosalie Wolf Geriatric Interdisciplinary Health Care Research Center at UMass Worcester, Miller has published extensively on related topics, including her own research on the recovery of older adults after coronary artery bypass surgery, and maintains a clinical practice as a nurse practitioner caring for older adults.
"Dr. Miller has focused much of her career on improving the health of older adults through her clinical practice and scholarship. As an educator and successful grant writer, she is preparing future advanced practice nurses to do the same within our discipline and as part of interprofessional teams," said GSN Dean Paulette Seymour-Route, PhD. "We are very proud of her and are delighted that she has achieved this national distinction."
Related links:
HRSA head convenes with faculty focused on underserved
$1.7 million in grants will help students enter primary care workforce sooner
Graduate School of Nursing helps special athletes stay healthy