Medical and nursing students focus on veterans
Military population has specific health care needs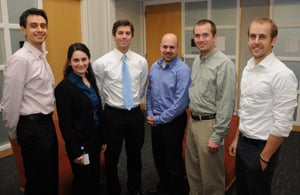 The first Veterans Health Clerkship students were (left to right) Mark Knobel, Lisa Salstein, Chance Richiedei, Michael Spiros, Caleb Dresser and Jonathan Paolino.
Although only two are veterans themselves, the five second-year medical students and one graduate nursing student in the inaugural class of the new Veterans Health Population Health Clerkship share a common interest in understanding the complex and interrelated physical and mental health challenges facing many soldiers and military veterans—and equipping themselves with the knowledge and resources to address them.

Medical students Caleb Dresser, Mark Knobel, Jonathan Paolino, John Richiedei and Lisa Salstein, and Graduate School of Nursing student Michael Spiros learned about health care concerns that are unique to the military during a two-week population health clerkship in which they crisscrossed the state. They visited service agencies, hospitals, outpatient clinics and wellness programs, and even a military museum where they gained historical perspective. They met veterans and their families, shadowed clinicians and service providers, gained insight into military culture, and learned about the health systems and resources serving veterans and their families.
During their clerkship immersion, students discovered that military culture frowns upon dwelling on pain or weakness; that chronic pain caused by carrying heavy equipment is a common problem that can become a slippery slope to prescription drug addiction; that even mild traumatic brain injury (TBI), which doesn't show up on scans, can cause significant symptoms; that veterans suffering from post-traumatic stress disorder are especially vulnerable to suicide; why many veterans become homeless; and how veterans' health and military experiences affect their family members. Perhaps most surprisingly, they learned that many veterans suffer needlessly because they are not connected to the network of health care services and resources that are available to them.
A requirement for all second-year medical and first-year graduate nursing students, population health clerkships are two-week courses that introduce students to public health concepts and to communities as a unit of care. The veterans health clerkship is one of nearly 30 clerkship options from which students can choose. It was spearheaded by faculty advisor Linda Cragin, director of the Massachusetts Area Health Education Center Network (MassAHEC), who cast a wide net to recruit faculty from inside and outside UMMS. "This clerkship represents great connections across UMMS, from the Departments of Psychiatry, Family Medicine & Community Health, Quantitative Health Sciences, and others," said Cragin.
Physicians, psychologists, nurses, social workers, peer counselors and physical, occupational and speech therapists all were represented in the clerkship faculty—as were VA health care providers and active members of the Massachusetts National Guard who are directly involved in improving awareness amongst veterans about suicide prevention. Among them were Robin Davidson, MD, a retired UMMS faculty member and Navy veteran who opened the clerkship with images and stories of military health care delivery in Iraq; Christine Runyan, PhD, clinical associate professor of family medicine & community health, who served seven years as a clinical psychologist in the Air Force; and School of Medicine Class of 2000 alum David B. FitzGerald, MD, a neurologist and neuroimaging researcher for the VA.
In her presentation "Primary Care and Behavioral Health Integration: Serving Veteran's Needs," Dr. Runyan shared what she called "clinical pearls for the care of combat veterans." Most notable for primary health care providers who treat the many veterans who don't receive care from the VA is the exhortation to simply take a military service history, asking questions about patients' military experiences and how they affected them. "You can't help a veteran if you don't ask," she said. "Above all, express gratitude for their service and sacrifice."
A staff neurologist and researcher for the VA, Dr. FitzGerald is applying advanced neuroimaging techniques to the problem of TBI. "The clinical challenges of diagnosing and treating TBI is complicated by PTSD as well as lots of pain associated with heavy packs and being blown up," he explained. "Working with vets who have incurred TBI from improvised explosive devices requires neurology, good imaging, careful history taking and some psychiatry to make sense of a very complicated picture."
Army veteran and class memberPaolino completed three tours of duty in Afghanistan and Iraq as a member of the Army's 82nd Airborne Division before resuming his original goal to attend medical school. Like others in the class, he is not necessarily planning a career in military medicine. "I'm a veteran, but I didn't know anything about how the VA works and the health care services that are available to veterans," he noted. A father of three who is currently leaning toward becoming a pediatrician, Paolino concluded that the clerkship has much to offer to any health care provider, who will surely encounter veterans throughout their careers.
While his interest in nursing was sparked not so much during his military service as during a volunteer stint as a relief worker following the 2010 Haiti earthquake, Navy veteran Michael Spiros, RN, a student in the Graduate School of Nursing's Graduate Entry Pathway, does plan on a career as an acute/critical care nurse practitioner in a military health care setting, either as a civilian or military service member. "I want to give back to this population," he said. "It will be a privilege."
Equipped with the pilot faculty, curriculum and student feedback, Cragin is already in discussion with the Department of Family Medicine & Community Health and the Graduate School of Nursing about ways to incorporate veterans health into training. "This clerkship will have lots of spinoff," she predicted.
Related links on UMassMedNow:
UMMS joins forces with military, veterans groups for suicide prevention
Newsmaker: Coalition to focus on suicide prevention
Deploying e-health to improve veterans' medical care
Serving those who serve: 'Caring for Veterans through Research and Collaboration'
UMMS expands partnership with the Veterans Health Administration
Commonwealth Medicine employment initiative helps veterans transition into civilian workforce