Gov. Cellucci receives Chancellor's Medal for 'selfless service'
Award given at reception to benefit the UMass ALS Champion Fund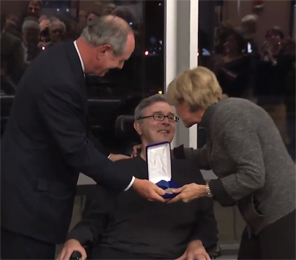 Chancellor Michael F. Collins awarded former Gov. Paul Cellucci a Chancellor's Medal at a reception to benefit the UMass ALS Champion Fund on Wednesday, Nov. 14.
"With deep gratitude for all your years of selfless service and in recognition of your political acumen, professional skills and personable manner that you have exercised to such great effect, we recognize and honor you," said Chancellor Collins in awarding the medal.
Cellucci announced in May of 2011 that he is raising money for an endowment at UMMS that will fund research into the causes of and treatments for amyotrophic lateral sclerosis (ALS), also known as Lou Gehrig's disease, a progressive neurodegenerative disorder affecting the motor neurons in the central nervous system. The UMass ALS Champion Fund supports the groundbreaking research of Robert H. Brown Jr., DPhil, MD, the Leo P. and Theresa M. LaChance Chair in Medical Research and chair and professor of neurology.