Post-doc receives scholar award from American Society of Hematology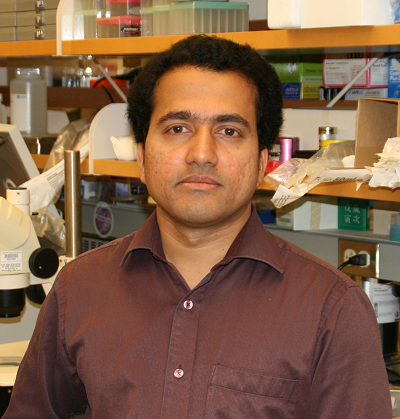 John Anto Pulikkan, PhD
John Anto Pulikkan, PhD, a post-doctoral associate in the laboratory of Lucio H. Castilla, PhD, associate professor of molecular medicine and biochemistry & molecular pharmacology, received a 2012 Scholar Award from American Society of Hematology (ASH), the world's largest professional society concerned with the causes and treatment of blood disorders. Dr. Pulikkan was one of seven basic research fellows from across the country to receive the award.

Established in 1984, the ASH Scholar Awards provide monetary support for fellows and junior faculty pursuing research careers to assist them during the critical period in which they must complete their training and achieve status as an independent investigator. The awards, totaling $100,000 for fellows and $150,000 for junior faculty over a two- to three-year period, are made possible through grants from the corporate community, individual donors, foundations and funds committed by the society.

"The ASH Scholar Awards demonstrate the society's strong commitment to supporting hematology research despite the challenging current economic climate and threatened funding cuts to the National Institutes of Health," said ASH President J. Evan Sadler, MD, PhD, of the Washington University School of Medicine in St. Louis.

Pulikkan studies how the function of the hematopoietic stem cells is regulated by transcription factors, such as the core-binding factor (CBF). "Our research is focused on understanding the cellular mechanisms regulated by CBF in normal hematopoiesis and in leukemia, with special emphasis on their interaction with the stem cell niche," said Pulikkan. "We are interested in dissecting the specific roles of each member of the three CBF factors on the modulation of survival, proliferation and differentiation of hematopoietic stem cells. These studies will help our understanding of the complex function of CBF factors in hematopoiesis, and provide mechanistic insights for developing improved therapies in leukemia treatment."

Funding from the ASH Scholars Program encourages post doctoral fellows to advance hematology research by providing critical support that enables them to ask risky questions in blood biology and related diseases. "I am thrilled to receive the ASH Fellow Scholar Award because it will enable me to test some of my novel ideas in hematology. My goal is that my studies may change the current thinking on CBF regulation of hematopoiesis, and that can have translational applications. This award is also important because it will help me become an independent researcher in hematology," he said.

Pulikkan received his PhD from the Ludwig Maximilians University of Munich, Germany, in 2008. In 2006, he was awarded a research fellowship from Jose Carreras Leukemia Foundation in Germany. As a student in the laboratory of Gerhard Behre, Pulikkan became interested on the molecular mechanisms for the deregulation of the transcription factor CEBP-alpha, a key regulator of hematopoiesis, in acute myeloid leukemia. This interest led him to pursue his post-doctoral training in Dr. Castilla laboratory to further elucidate the understanding of transcription factor deregulation in human leukemia.