UMass nursing scholars convene at five-campus forum
PhD nursing students gather to learn and share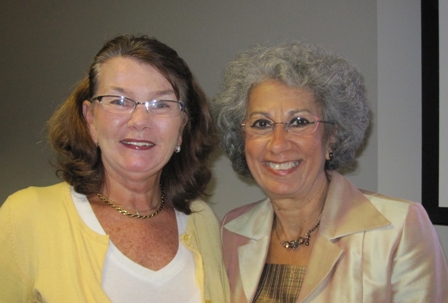 Karen Devereaux Melillo, PhD, chair of the UMass Lowell Department of Nursing, left, and keynote speaker Afaf Meleis, PhD, at the third annual Five-Campus PhD Nursing Student Forum.
Students in pursuit of the PhD in Nursing degree from all five University of Massachusetts campuses convened centrally for the third annual Five-Campus PhD Nursing Student Forum, held last month at the University's South Street Campus in Shrewsbury, also home to much of the UMass Worcester Graduate School of Nursing. The event provides students with an informal, open venue that encourages them to compare notes and share challenges and successes related to their educational experiences. Program planning for the annual event rotates among campuses, with this year's agenda developed by Donna Zucker, PhD, associate professor and graduate program director at the UMass Amherst School of Nursing, and Barbara Mawn, PhD, professor of nursing and PhD program director at UMass Lowell.
Keynote speaker Afaf Meleis, PhD, discussed her own journey and discoveries in nursing scholarship in her talk "Transitions: A Journey Toward Integration of Knowledge." An internationally renowned nurse scientist, Dr. Meleis is the Margaret Bond Simon Dean of Nursing at the University of Pennsylvania School of Nursing, where she is also professor of nursing and sociology and director of the school's World Health Organization Collaborating Center for Nursing and Midwifery Leadership. A pioneer in nursing scholarship since graduating in 1961 from the University of Alexandria in Egypt, Meleis has dedicated her career to promoting health, health care and the well-being of women throughout the world through participation, empowerment, advocacy, education and research.
At the forum Meleis discussed her personal journey in nursing knowledge development, starting from her beginning as a nursing student in Egypt. She established a respected transitions theory of nursing, a model of nursing practice designed to offer personalized services and continuity of care to patients and families living with changing demands of progressive, deteriorating illness.
"This was an exciting event for the students and faculty," said Carol Bova, PhD, associate professor of nursing and medicine, who directs the GSN's PhD program. "Dr. Meleis energized the audience as she shared the challenges and rewards of choosing a career in academic nursing."
Meleis' presentation was followed by a luncheon at which students and faculty discussed topics ranging from health policy to techniques for scholarly research, such as qualitative methods. The forum ended with a panel comprising one doctoral student from each of the five campuses, who shared responses to the keynote presentation. The panel was led by guest moderator Danny Willis, PhD, RN, associate professor at the Boston College Connell School of Nursing.
"I strongly believe that nursing's central mission is to facilitate the transition of populations toward health and well-being, and that the discipline of nursing is focused on advancing and translating the art and science of transitions," said Meleis, reinforcing the aspirations of the UMass nursing PhD students who hope to follow in her footsteps. "An integrating and organizing conceptual framework like transitions theory makes it easier for a nurse to capitalize on what he or she knows already, enhances use of existing knowledge more insightfully, brings coherence in a discipline and drives the significant questions and answers."