Post doc contributes to book promoting Puerto Rican science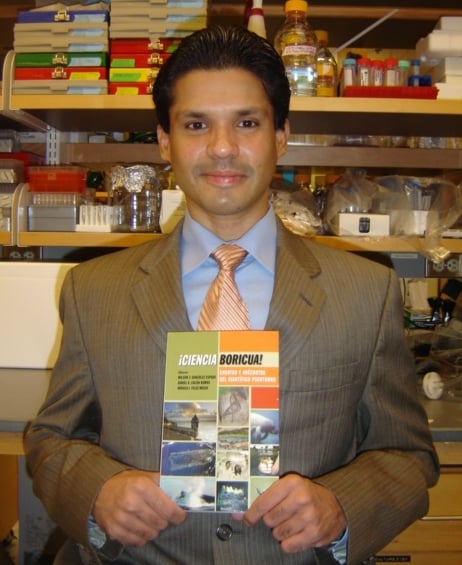 Wilfredo E. De Jesus-Monge
Wilfredo E. De Jesus-Monge, MD, MSc, a postdoctoral research fellow in the lab of Brian C. Lewis, PhD, associate professor of molecular medicine, contributed two essays in the book ¡Ciencia Boricua! Ensayos y anécdotas del científico puertorro (Boricuan Science: essays and anecdotes of the Puerto Rican scientist).

The book is written in Spanish and published by Ciencia Puerto Rico, an initiative of the Council for the Advancement of Puerto Rico Research and Innovation, a non-profit think tank that promotes research and development in Puerto Rico. ¡Ciencia Boricua! is a collection of 61 essays about diverse science topics for students and the general public, written by Puerto Rican scientists working in prestigious institutions in Puerto Rico and the United States. Profit from sales of the book will be used for science education programs in Puerto Rico.

Dr. De Jesus-Monge writes about his three years of experience as a school science fair judge in Worcester in his first essay "The Science Fair: your first research experience." He has been a judge in the Worcester Public Schools Science Fair and Engineering Expo and the Massachusetts State Middle School Science and Engineering Fair.

The second essay describes De Jesus-Monge's diverse experiences in cancer research, including his current experience as a pancreatic cancer researcher in the Lewis Lab.

"It is an honor to share my personal and professional experiences at UMass Medical School with the Spanish-speaking population, especially school students in Worcester, Puerto Rico and abroad," said De Jesus-Monge.