High school students learn about future health care jobs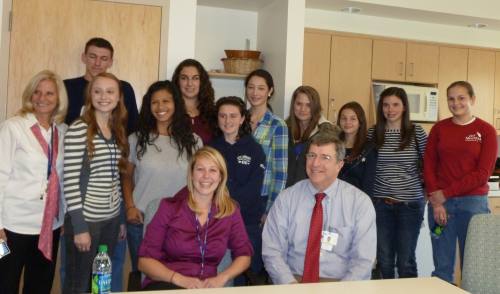 Quabbin Regional High School HOSA students are pictured with Kristin Stolarczyk and Dr. Stephen Earls (seated) and HOSA advisor Chris Nosel, standing far left.


To promote an interest in the next generation of health care professionals, Barre Health Center hosted 20 students from Quabbin Regional High School recently. The students are members of Health Occupations Students of America (HOSA), a national program of future health professionals, affiliated and managed in Massachusetts through UMMS by the MassAHEC Network.
Coordinated through Joan Pulnik, administrative assistant, the visit allowed students to tour the health center, including stops at radiology, x-ray, laboratory and medical records. Health center personnel were eager to share their career experiences and offer a glimpse into a day in the life of their profession, the specific training involved and the labor outlook.

The students were encouraged to consider health fields that they had not thought about before. They learned, for example, that as current technologists retire, there will be job openings for new graduates at the health center.

The tour culminated in the board room, where Stephen Earls, MD, medical and education director, and Kristin Stolarczyk, physician assistant, met with students to talk about the history of family physicians, the current role of primary care providers in rural and small town practices, and the differences between physician assistants and nurse practitioners.