Calendar captures children touched by students' international work
Fundraiser will help with projects in Liberia and help bring Nicaraguan students to UMass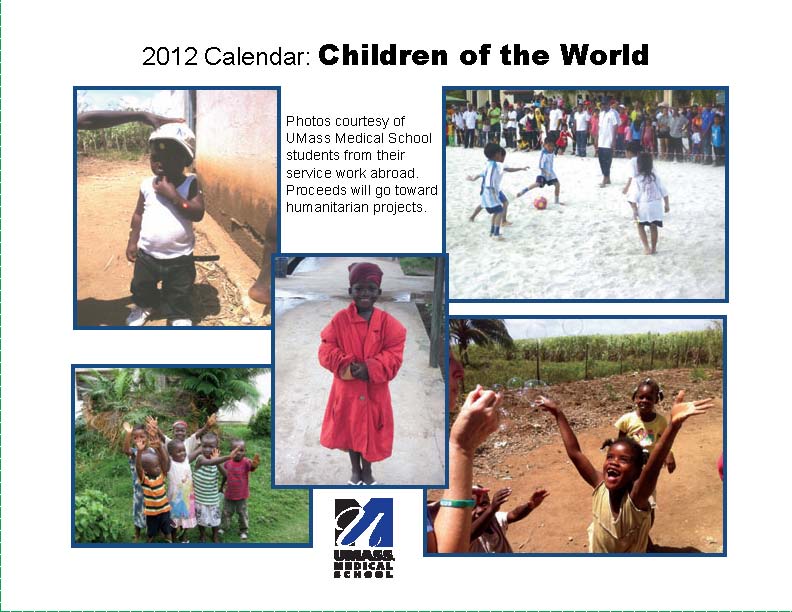 Click on the image above to view a PDF of the calendar
A 2012 calendar filled with photos taken by UMass Medical students, capturing the smiling faces of children from around the world, is now available to purchase. Proceeds from the sale of the calendars will go toward projects in the town of Behwalay, Liberia, and to support Nicaraguan medical students so they can to come to UMass Medical School for month-long clinical electives.
An annual project of Mick Godkin, PhD, director of international medical education and professor of family medicine & community health and medicine, and designed by Sherrie Carey in his office, the calendar features the photography of students who have traveled to a wide variety of countries. "A calendar seemed like a great way to showcase what our students do and the generosity of Curry Printing to print at cost has enabled us to make enough money for worthwhile projects" said Dr. Godkin.
The Nicaraguan medical students will be coming from the Autonomous University of Nicaragua—Leon, which is the international site for the family medicine global health track. "Nicaragua is the second poorest country in the western hemisphere and its students could not come here without our financial support ," Godkin said. "To facilitate a bi-lateral exchange and repay the generous hospitality of our UNAN hosts we have taken the unusual step of raising money for all their expenses."
The calendars, which can be previewed by clicking on the image to the right, cost $20 each. They can be purchased by contacting Godkin at Michael.Godkin@umassmed.edu.
Related stories on UMassMedNow:
Kelley House partners with African Community Education to bring water to clinic
Students share stories of summer adventures