LCME accreditation self-study process kicks off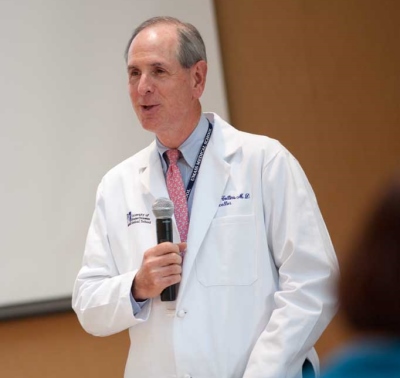 Chancellor Michael F. Collins helped kick off
the LCME self-study process on Friday, Oct. 29
Members of UMass Medical School community gathered in the Faculty Conference Room on Friday, Oct. 29, for a celebration to launch the institutional self-study, an 18-month-long preparatory process for the Liaison Committee on Medical Education (LCME) accreditation site visit. The LCME is the nationally recognized accrediting authority for U.S. and Canadian medical education programs, and is sponsored by the Association of American Medical Colleges and the American Medical Association.

The institutional self-study process is led by a task force comprised of a broad range of faculty, students, staff and community partners representing academic and clinical departments, all levels of faculty, UMMS alumni, UMass trustees and various school offices and an independent student analysis of the education program. The work will culminate in a three-day site visit from the LCME, starting on March 4, 2012.

Noting the tremendous amount of work the process will require, Chancellor Michael F. Collins said the effort will be very meaningful. "It is a big task, but one that is very healthy," he said.

In overseeing the self-study, the task force and its subcommittees will comprehensively review, analyze and assess the Medical School's education program, with the goal of defining the institution's strengths as well as opportunities for improvement and further development.

LCME accreditation takes place every eight years. For more information, visithttp://www.umassmed.edu/LCME/index.aspx.