Page Menu
Zoon Wangu, MD - Quinsigamond House Mentor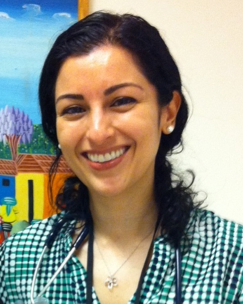 Dr. Zoon Wangu grew up in Pittsburgh, PA and Franklin, MA. She received her BS in Biology and Art History from Tufts University, MD from the David Geffen School of Medicine at UCLA and completed pediatric internship and residency at Children's Hospital of Pittsburgh. She was a primary care pediatrician in Cohasset, MA before starting her fellowship in Pediatric Infectious Diseases at the Boston University Medical Center. She is board-certified in General Pediatrics and Pediatric Infectious Diseases.
Dr. Wangu is an Assistant Professor of Pediatrics at UMass Medical School and attending physician in Pediatric Infectious Diseases & Immunology at UMass Memorial Children's Medical Center. She also serves as clinical faculty at the Ratelle STD/HIV Prevention Training Center at the Massachusetts Department of Public Health. Her current clinical interests besides sexually transmitted diseases include adolescent health and travel medicine. During fellowship, Dr. Wangu focused her research on low-grade HPV-infected anogenital tissue and its potential role in HIV acquisition and transmission, for which she received the Massachusetts Infectious Diseases Society's Maxwell Finland Award for Excellence in Research. Her current research interests include implementation of innovative STD training modules for clinicians in the community; methods of STD and contraceptive knowledge assessment and prevention in high-risk adolescents; best practices for syphilis screening in high-risk groups; and long-term outcomes of congenital syphilis infection and exposure. Dr. Wangu became a Learning Communities mentor in 2018 and is passionate about teaching students, residents, and anyone who will listen to her wax poetic about STDs.
When not immersed in the world of infectious disease, Dr. Wangu enjoys cooking, drawing, playing piano and running around with her husband and busy toddler in Framingham.
"How wonderful it is that nobody need wait a single moment before starting to improve the world." – Anne Frank