Page Menu
Jerry Durbin, MD - Blackstone House Mentor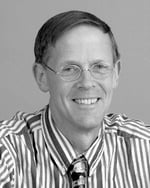 Jerry Durbin has been Professor of Pediatrics and Medicine at UMass Chan Medical School for 25 years. His interest in medical education and mentoring goes back to the day he graduated from Columbia College of Physicians and Surgeons when he realized, as he received his diploma, that there was not one faculty member who could call him by name. His undergraduate work had been at Dartmouth, and he did pediatric and internal medicine training at Dartmouth followed by a stint at NIH, and then further pediatric residency training and adult and pediatric infectious disease training at Boston Childrens and Beth Israel Hospitals.
Jerry has been devoted to teaching, to supporting trainees, and to modeling excellent patient care since he arrived at UMass in 1980. He has received yearly teaching awards from the house staff and medical students. His clinical interests center around the diagnosis and treatment of infections in children and adults, and he is renowned for his teaching about rashes and about antibiotic use. (He has provided to students and residents a much appreciated antibiotic chart that has been found on wards around the country, planted by UMass graduates). He also continues with a small but active primary care practice where he collaborates with students and demonstrates his love of working with children, teens, and parents. On the wards he supervises an active ID consult service, working with third- and fourth-year students in providing care in an intimate learning environment. Given his own medical school experiences, he was thrilled to be in the inaugural group of mentors at UMass, and he has been recognized for providing excellent support and coaching to students. And he was thrilled that, years after his graduation, Columbia began the White Coat ceremony and the Gold Humanism Society - activities that he now embraces.
Jerry lives in an historic house in Needham with his wife, Kirsten. His daughter, Ali, lives in Guatemala with her husband and two daughters. His son, Adrian, and wife are in San Francisco with two more daughters and one son. His youngest son is in Washington DC. Jerry's passions include hiking, walking, and strolling throughout New England (accompanied by students and residents) and frequent trips to Guatemala where he pursues medical and human rights work.