Page Menu
Plumley Village Health Services
Are you a Worcester-Hahnemann Family Medicine Residency applicant, looking for an opportunity to train in community medicine?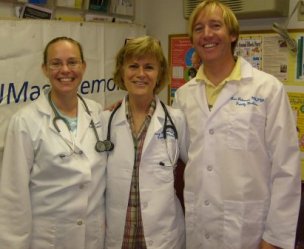 Plumley Village providers: Katherine Barnard, MD;
Mary Sullivan, FNP; Ken Peterson, FNP
Plumley Village Health Services is a unique clinic offering continuity training experience in community health for Hahnemann Family Health Center residents. This small clinic was founded in 1992 to integrate public health and primary care medical services into low-income housing in downtown Worcester. Its original priorities were to provide on-time immunizations to area children, substance abuse counseling, accessible primary care medical services and family planning services.
In addition to continuing to fulfill its original public health mission, the clinic now serves as a primary care site for close to 2000 patients who primarily live in Plumley Village housing and the surrounding neighborhood. Since most of our patients are young families, we have an emphasis on women's health, family planning, care of well and sick children, and prenatal care. We provide gyn and derm procedures on-site and colposcopy at Hahnemann.
We also have a sizeable population of patients with chronic medical issues such as asthma, diabetes, obesity, depression and chronic pain. Most of our non-English speaking patients speak Spanish so all of our services are offered bilingually. Community outreach continues to be an essential component of our work – focusing on cancer screening and prevention as well as assistance in obtaining health insurance and other services.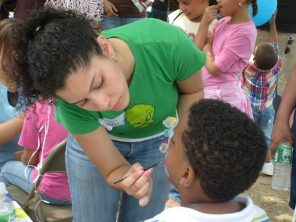 Fun at the Annual Health fair in Plumley Village
Residents have valued this experience for the volume of pediatric and OB-gyn care and procedures, exposure to a vulnerable patient population, and the chance to improve medical Spanish. From a practice management standpoint, residents have liked the exposure to a smaller clinical setting. There are many opportunities available to design and implement a community-oriented project at Plumley. There also are opportunities to learn about community agencies and services by working one-on-one with our outreach worker and clients.

Plumley Village Health Services operates as an outpatient clinic of the UMMHC system, with a cross-coverage relationship with Hahnemann Family Health Center. We also serve as a community training site for Family Medicine residents. Each year, one or two upper-level residents from Hahnemann will elect to participate in a longitudinal elective at Plumley, providing 2-4 patient sessions per month at the clinic.

"Why I liked Plumley....It's true community medicine, with all the rewards and frustrations that make medicine worthwhile. It's an intimate and personal setting...a place where you can really invest yourself. It's people you look forward to working with every day. And, for me, it was a great way to start learning Spanish."
- Ambareen Ali MD, Hahnemann Family Health residency class of 2006
"Plumley Village Health Services is a great place to work! It's like being at home with family when spending time with staff and patients. Working with staff and patients at Plumley inspired me to be the best physician I can."
- Sejal Patel MD, Hahnemann Family Health residency class of 2007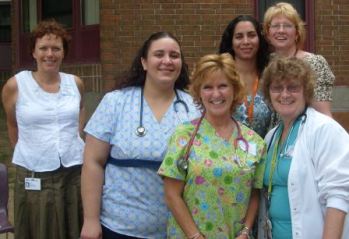 Plumley Village Health Services clinical team
For more information on the history and mission of Plumley Village Health Services, please go here (http://permanent.access.gpo.gov/lps2053/nnwg0018.pdf) to read the Neighborhood Networks (HUD) Bulletin article published Winter 2000! I would also be happy to speak with residency applicants who are interested in learning more about Plumley Village Health Services. Please feel free to contact me:

And check out the website made specifically for our Plumley patients!

Mary Flynn, MD
Medical Director, Plumley Village Health Services
Office Phone: 508-334-1102
Mary.Flynn@umassmemorial.org