Page Menu
Your Training at Family Health Center (Queen Street)

"It was 1972...I knew I wanted to take care of women. Within two months into my rotating internship, I knew I wanted to take care of infants and children, too. I signed on as one of the first residents in this program and I was not disappointed!"
- Professor Lucy Candib, MD (then, during residency...and now)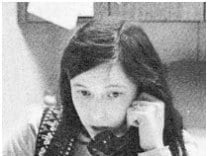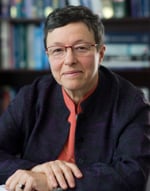 At Queen Street, the primary care team includes faculty physicians, nurse practitioners, physician assistants, nurses, medical assistants, integrated behavioral health specialists, and social service advocates. We have integrated behavioral health, perinatal care, gender affirmation, refugee and asylee health, HIV and viral hepatitis care, and substance use care. Our Homeless Outreach and Advocacy Program has been providing direct care to those who are unhoused for many years. We also provide urgent care, health insurance and benefits advising, WIC and SNAP support, dentistry, psychotherapy, pharmacy, and laboratory services to complete our comprehensive care model as a patient-centered medical home.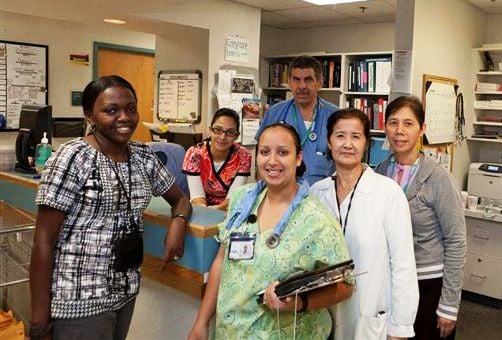 We Are Committed to Social Change
Since 1972, FHCW has been committed to providing primary care and social services to those who are underserved, marginalized, and oppressed. We grew out of the community's need for a health center that would serve poor and working class members of the Main South neighborhood and have expanded our services with our patient population over the years. Social equity and advocacy are foundational to our health center mission, and we are proud that patients make up more than half of the members of our board of directors. Residents and faculty are also active in FHCW's Racial Equity, Diversity, and Inclusion (REDI) Committee, working alongside our colleagues from dozens of disciplines and roles to address racism and structural oppression in our health center and the broader Worcester community.
We Speak Their Language
We believe in providing culturally-humble care and fighting for language access as a fundamental aspect of equity and basic human dignity. Close to 50% of our patients speak Spanish and come from all over Latin America, particularly Puerto Rico, Dominican Republic, El Salvador, Guatemala, Peru, Mexico, Colombia, and Cuba. We also serve significant communities of patients who speak Vietnamese, Albanian, Brazilian Portuguese, Twi, Nepali, Arabic, Russian, Burmese, Haitian Creole, Swahili, Sango, Kinyarwanda, and Khmer. In person interpreters for most of these languages are on hand at all times and telephone interpreters can also be used whenever needed. Many of our residents take advantage of international electives to experience the cultures and languages of the immigrant patients they care for in Worcester.
Each Wednesday, FHCW holds Cultural Rounds where we welcome a member of our health center community to talk about their culture and the ways it can impact their health and the care they receive. Through these weekly informal discussions with robust Q&A, we hope to promote cultural humility and the continuous process of learning about perspectives outside of our own in order to improve the care we provide. These sessions are organized by Dr. Katie Price, one of our residents, and are open to residents, faculty, and staff from all our clinical sites. Applicants, students, and community members interested in attending can email katherine.price@umassmemorial.org for the link.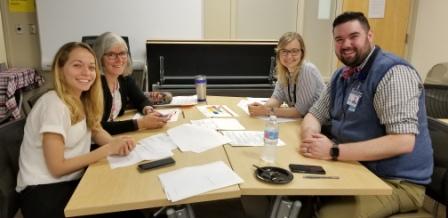 We Teach Procedures
Queen Street residents are trained by their family medicine faculty to do joint injections and all types of skin procedures in weekly clinics. You will learn IUD insertions, Nexplanon placement and removal, and endometrial sampling by providing these services to your own patients under the supervision of your preceptors. You may provide urgent care in our onsite Walk-in Center (the former ER of City Hospital) periodically or as an elective rotation and have the opportunity to care for many acutely ill and injured patients who may require suturing of lacerations, casting of fractures, and management of active medical problems.
Evidence-Based Medicine
Daily chart rounds are facilitated by the third-year resident serving as health center chief and overseen by family medicine precepting faculty committed to teaching EBM. Residents have access to the UMass library and numerous EBM resources like UpToDate, DynaMed, VisualDx, and a wide array of full text journals. A UMass librarian attends chart rounds periodically to help you hone your literature review skills. Our faculty teach the latest clinical guidelines and their application to individual patients. Academic pharmacy faculty form part of the educational team, assisting with precepting, chart rounds, and didactics.

Maternity Care
Our residents gain tremendous experience in maternity care by caring for and delivering a large volume of their own prenatal patients under close faculty supervision. All maternity patients are assigned a social services advocate who supports, educates and advocates for them. The advocate provides translation services and emotional support for non-English speaking patients through their labor and delivery. Residents gain technical expertise in prenatal care, labor management and delivery in a family-centered, family medicine style within a team model of care. Many of our residents choose to lead prenatal groups, a model where women participate in group visits for their prenatal care, learning from and bonding with each other over the course of their pregnancy.
We are very proud of our highly qualified residents and our constantly evolving, progressive curriculum. The educational experience is individualized for the unique interests of each resident. You can make the most of your education here while you really make a difference for your patients and the community.

WORKERS OF WORCESTER

Jartu Fahnmulleh, patient care services staff at Family Health Center of Worcester. Photo by An-Hoa Giang, MD, for the Workers of Worcester project. Read Jartu's story here.