Page Menu
About Us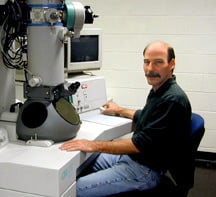 The Core Electron Microscopy Facility was established in January of 1999 to provide state-of-the-art methodologies and instrumentation for researchers at UMass Chan Medical School and the surrounding research community. It is located in the lower level of the Medical School (SA-114). The facility is equipped with one scanning and three transmission electron microscopes together with the ancillary equipment required to carry out all key ultrastructural procedures from the tissue to the molecular level.

Dr. Gregory Hendricks, who provides in depth expertise in EM methodology, manages the facility. The facility is co-directed by Drs George Witman and Roger Craig of the Department of Radiology-Division of Cell Biology and Imaging, who have many years of EM experience.

The facility provides full service in specimen preparation, microscopy and interpretation of results, all at very reasonable rates. Training and use of all the equipment are also available and encouraged.
If your research calls for ultrastructural information, call (Greg Hendricks at 508-856-2602) or email the facility (Gregory.Hendricks@umassmed.edu) for advice and service.