Page Menu
Mentored Career Development (KL2) Training Program
A major goal of the University of Massachusetts Center for Clinical and Translational Science (UMCCTS) is to develop and support the next generation of leaders in clinical and translational research. Success in today's complex and competitive environment requires training that is truly transdisciplinary in nature, encompassing the full spectrum of translational research from discovery through pre-clinical development and first-in-human studies to implementation science with additional continuous feedback to basic science research.
The Aims of the KL2-Training Program are:
Promote a research career development program across the basic, clinical, and population health disciplines geared towards translating research into effective clinical practice and policy, as well as generating new questions spanning the entire spectrum of research.
Recruit promising post-doctoral scholars resulting in a diverse scholar pool with respect to sociodemographic characteristics, clinical background, and disciplinary perspectives. We expect that a significant proportion of our scholars will become clinician-investigators in academia and industry.
Provide scholars with the individual mentoring, academic career development, and technical skills necessary to ensure their success as independent investigators as well as contributors to team science.
Provide an independence-targeted research experience within transdisciplinary teams that builds on the strengths of the current environment of linkages between UMass campuses, departments, centers, and institutes.
Training Program
Training for KL2 scholars has 4 key components tailored to individual goals:
a transdisciplinary mentoring team and an intensive mentored research experience targeted to independence
coursework targeted to provide either advanced understanding of analytical methods (for more advanced entering scholars) or a degree (PhD for select MDs, MSCI for clinically-oriented postdoctoral scholars who do not already have an MPH degree)
KL2 resources
enrichment activities (e.g., research seminars, workshops) available through UMMS or other UMass institutions, collaborating programs and centers
Resources Available to Scholars
It is expected that applicants will take advantage of the many resources available at UMMS, such as:
Translational Research Lecture series and Grand Rounds
A Scientific Journal Internship
Opportunities to develop writing skills
R Club Workshop
Annual UMCCTS Research Retreat
Junior Faculty Development Program
Science Participation Resource Center
MassTERi educational programs related to product development
Regional CTSA research conferences
Mini-sabbaticals or research rotations at other UMass campuses or CTSA Hubs
On-line CTSA offerings
Scholars will pursue career development full-time for 2-3 years, pursuing their independent research projects designed to launch their career, while developing the skills needed to compete for independent funding.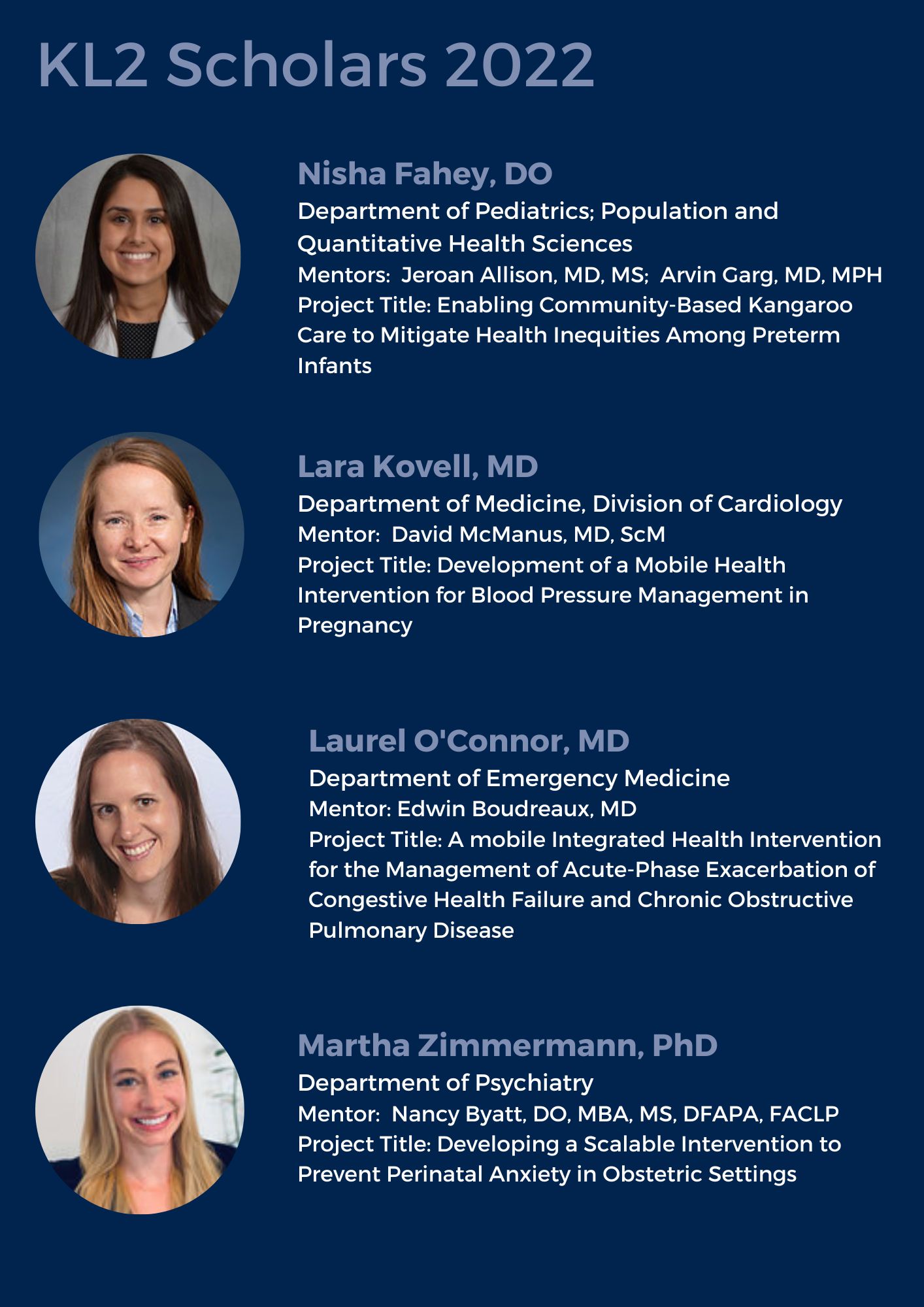 Program Leaders

Catarina Kiefe, PhD, MD
Professor,
Population and Quantitative Health Sciences
---


Peter Lindenauer, MD, MSC, MHM
Professor,
Department of Medicine at UMMS Baystate
---

Beth McCormick, PhD
Professor & Vice Chair,
Microbiology and Physiological Systems
---

Milagros C. Rosal, PhD
Professor,
Population and Quantitative Health Sciences