Ashley Matthew receives HOPE scholarship from Biomedical Science Careers Program
Date Posted: jueves, mayo 09, 2019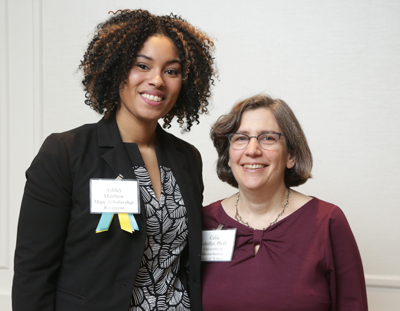 UMass Medical School MD/PhD candidate Ashley Matthew was awarded a HOPE Scholarship from the Biomedical Science Careers Program. She accepted the two-year, $7,500 award at the "Evening of Hope" celebration held at Harvard Medical School on April 25.
The Biomedical Science Careers Program supports academically outstanding students, particularly African American, Hispanic American and American Indian/Alaskan Native students, to increase their representation in biomedical careers.
Matthew entered the MD/PhD program at UMMS in 2012 after graduating from Xavier University. She was introduced to UMMS while an undergraduate as a participant in the 2010 Undergraduate Summer Research Fellowship Program. Now completing the final two years of medical school, Matthew conducted her doctoral research into hepatitis C drug resistance in the lab of Celia Schiffer, PhD, professor of biochemistry & molecular pharmacology and director of the UMMS Institute for Drug Resistance. In 2018, Matthew defended her dissertation "Molecular Mechanism of Resistance in a Clinically Significant Double-Mutant Variant of HCV NS3/4A Protease," which was published by the Cell Press journal Structure.
Previously, Matthew was awarded the Ruth L. Kirschstein National Research Service Awards Scholarship for Individual Predoctoral Fellows from the National Institutes of Health to support her doctoral research. Her work has been highlighted by NIH Director Francis Collins.
Previous UMMS recipients of HOPE Scholarships include Lauren Powell, PhD, GSBS '16; Djade Soumana, PhD, GSBS '16; Yendelela Cuffee, MPA, PhD, GSBS '12; and Charisa Cottonham, MD, SOM '11.
For more about the Schiffer Lab, please visit www.umassmed.edu/schifferlab