Page Menu
Diversity, Inclusion and Health Equity
UMass EM DEI Committee
Mission: T
o improve learning and work environments through appreciating the rich diversity within our communities and to create inventive and inclusive solutions to existing problems within our University and ED culture.
This endeavor is co-chaired by Drs. Rachel Davis-Martin and Alycia Valente in the Department of Emergency Medicine.
We work with the medical school, as well as across multiple EM divisions to create projects and educational opportunities that will help our department continue to be an environment where learners, faculty, and patients can thrive and reach their maximum potential. We are actively engaged in our community and have once-monthly meetings that are well attended and open to all.
Current projects include:
- Survey to examine inclusivity and barriers within the clinical environment
- Summer DEI program to increase exposure to EM between MS1 and MS2
- Continuing faculty education and engagement regarding DEI topics
- Participating in Medical School-wide committees
DIVERSITY
White Coats for Black Lives event organized by Meme Tran, Class of 2022 alumni, where hundreds of doctors, residents, medical students, nurses, hospital staff, and other health care workers gathered together to stand up against racism and acknowledge it as a public health crisis in our country.
Eric Dickson, MD, (CEO of UMass Memorial Health Care, emergency medicine trained and board-certified attending) stands in solidarity against racism. Dr. Dickson is actively working with health professionals and leaders at UMass Chan Medical School to promote diversity and inclusion, anti-racism, and health equity.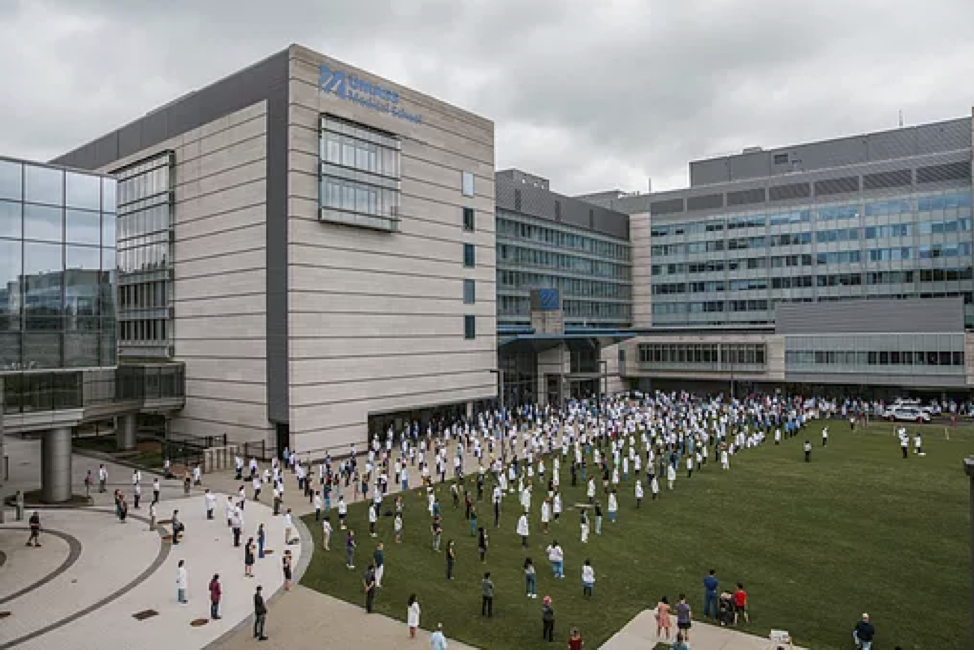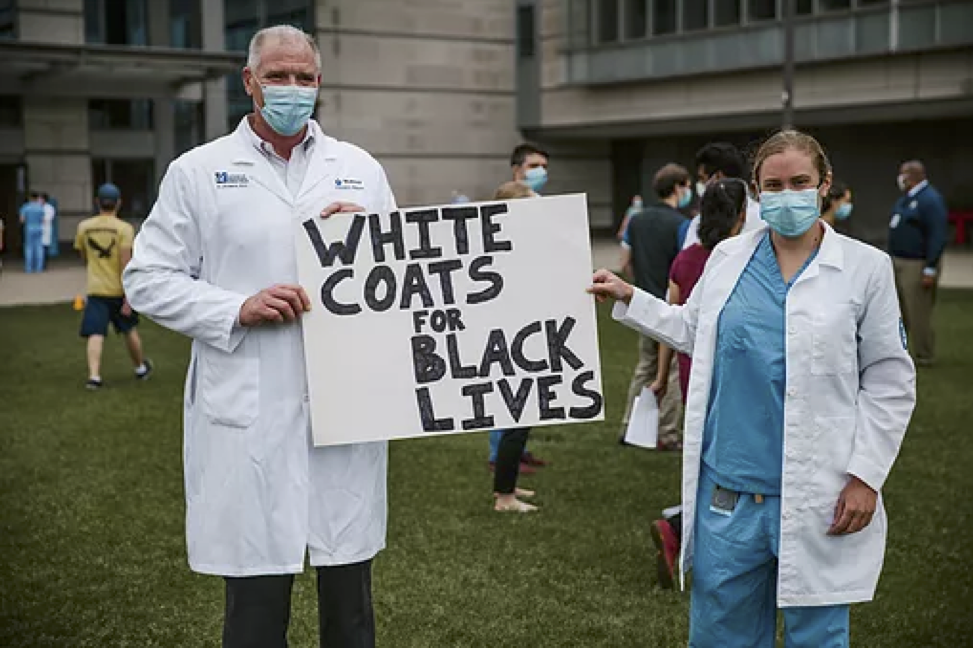 INCLUSION
The UMass Chan Medical School Department of Emergency Medicine is committed to ensuring that our residents and faculty are attuned to and can meet the needs of our diverse patient population. Our department serves the diverse communities of Worcester including patients from various ethnic and racial backgrounds, and socioeconomic standings. As we care for our patients, we know that sexual orientation, gender identity, age and disability influence how we interact with patients and directly impact a person's health care experience.
We place value on increasing diversity within emergency medicine to better serve community members with a wide range of social determinants of health. Minority candidate applicants who are underrepresented in medicine are encouraged to apply to our program to help better serve our diverse community. 
Our leadership team is committed to the holistic review of each applicant. As defined by the AAMC, this refers to "mission-aligned admissions or selection processes that take into consideration applicants' experiences, attributes, and academic metrics as well as the value an applicant would contribute to learning, practice, and teaching. (1)" We recognize that our applicants are from diverse backgrounds and experiences and take pride in reviewing their entire application as opposed to simply metrics and scores.
(https://www.aamc.org/services/member-capacity-building/holistic-review#:~:text=Holistic%20Review%20refers%20to%20mission,learning%2C%20practice%2C%20and%20teaching)
Women in Medicine
Successful Women in Medicine (SWiM) was created in 2017 as a space for residents and faculty to talk about leadership qualities, women in leadership roles, potential barriers, struggles and triumphs. SWiM meets every few months to discuss the challenging yet rewarding roles that female physicians have in emergency medicine. During pre-COVID times, residents and attendings would take turns hosting the SWiM meetings at their homes and would often have a pot-luck style dinner with plenty of desserts. Currently, SWiM meetings are held virtually on Zoom and hosted by residents.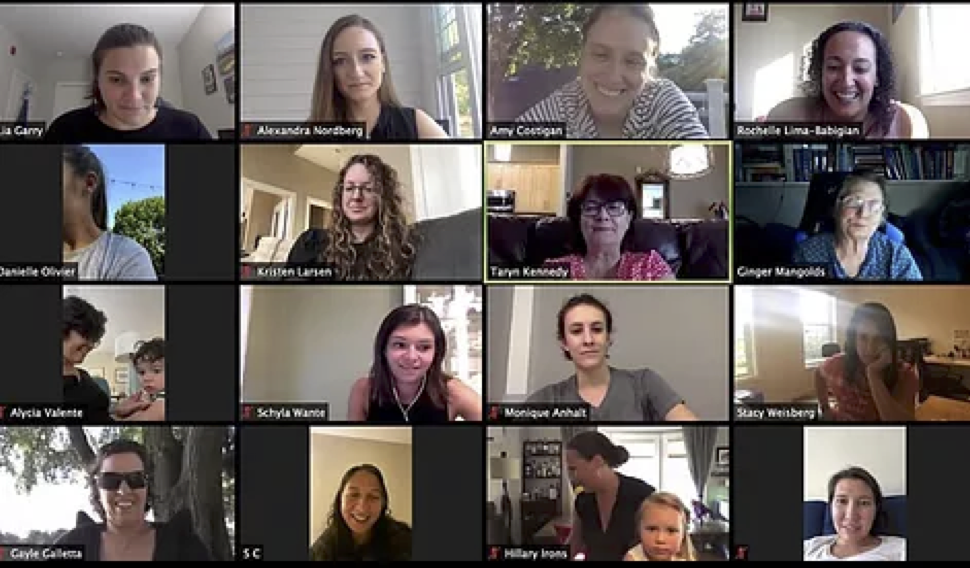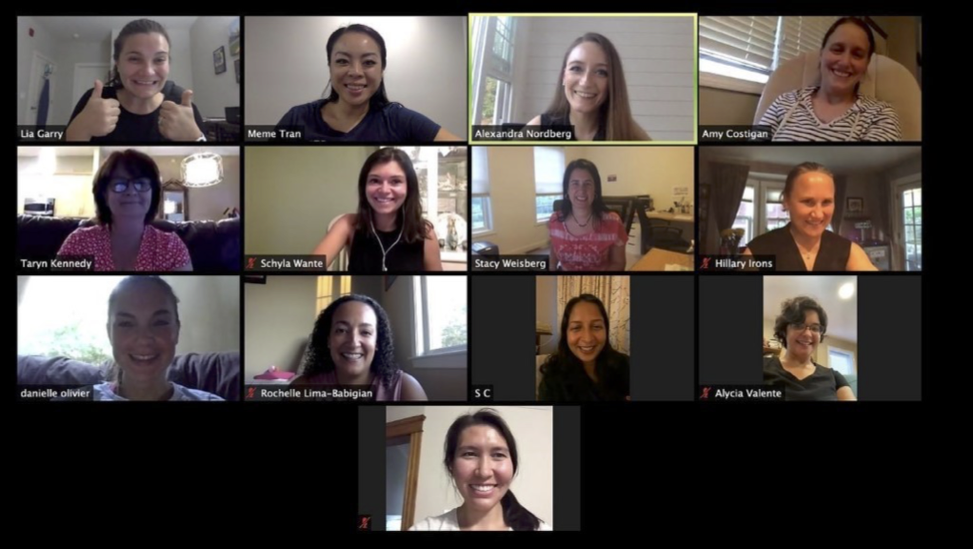 Health Equity
Health Equity Division
The Health Equity Division is focused on reducing health care disparities and promoting health equity.  Our faculty are actively involved in multiple projects both domestically and internationally aimed at reducing health inequity in our communities. As a division, we strive to use our academic emergency medicine platforms as a means to change and improve health care to meet the evolving needs of patients we serve.  To learn more, visit: https://www.umassmed.edu/emed/divisions/intem/ 
COVID-19 Pandemic
There is increasing evidence that some racial and ethnic minorities are disproportionately affected by COVID-19 in the United States according to the CDC. In order to slow the spread of coronavirus, the UMass Memorial Health Care system has teamed up with the city of Worcester to provide free weekly COVID-19 testing for community members. Emergency medicine attendings, residents, Worcester EMS paramedics, and medical students volunteer to test local community members at various testing sites throughout Worcester each week.