Roger Davis Elected to The American Academy of Arts & Sciences
Date Posted: Friday, April 30, 2021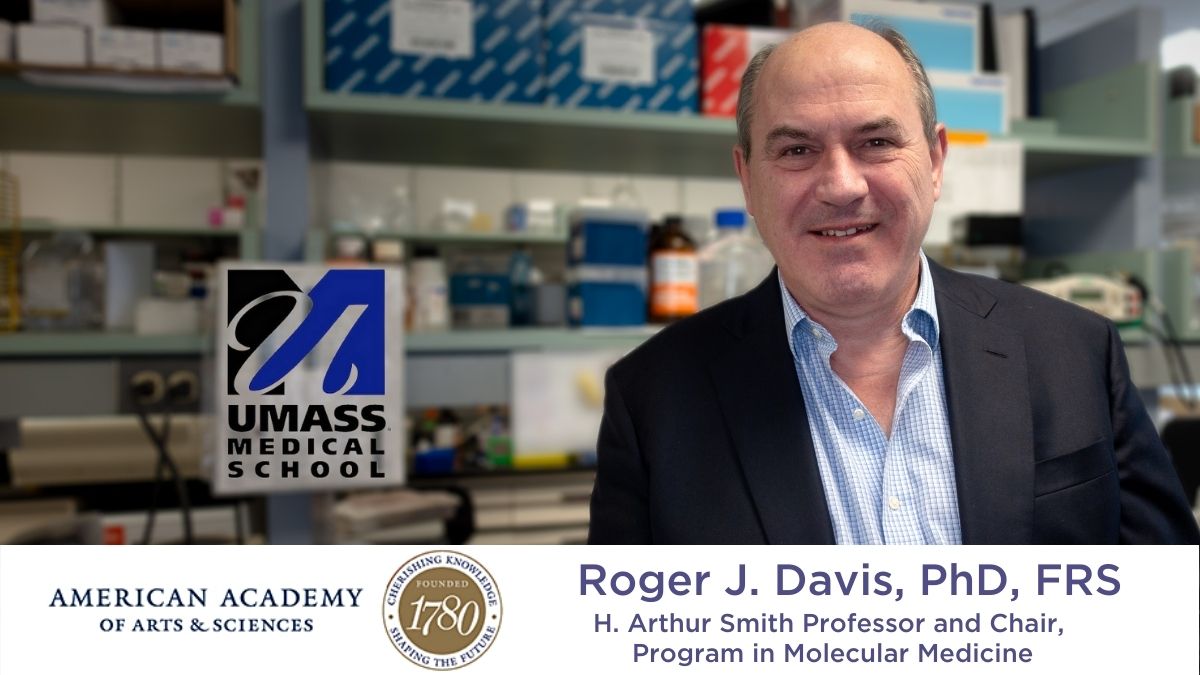 Roger J. Davis, PhD, FRS, has been elected a member of the American Academy of Arts & Sciences. It was founded in 1780, during the American Revolution, by John Adams, John Hancock and 60 other scholar-patriots.
"I am deeply humbled to accept this honor," said Dr. Davis, the H. Arthur Smith Professor and Chair of the Department of Molecular Medicine. "It represents recognition of the many accomplishments of colleagues in my research group at UMass Chan Medical School."
Distinguished members of the American Academy throughout the centuries include Benjamin Franklin (elected 1781), Alexander Hamilton (1791), Ralph Waldo Emerson (1864), Charles Darwin (1874) Albert Einstein (1924), Martin Luther King, Jr. (1966) and Anthony Fauci (1991).
Dr. Davis is among the 2021 class of scholars, scientists, artists and leaders who are being recognized for examining new ideas in their field and addressing important world issues.
"We're honoring the excellence of these individuals, celebrating what they have achieved so far, and imagining what they will continue to accomplish," said David Oxtoby, President of the American Academy. "The past year has been replete with evidence of how things can get worse; this is an opportunity to illuminate the importance of art, ideas, knowledge, and leadership that can make a better world."
Dr. Davis' election recognizes his research on stress signaling pathways that are connected to a range of diseases, including diabetes, heart disease, stroke and cancer. He's authored more than 400 scientific papers and his studies have led to the discovery of new genes that contribute to the development of these devastating diseases. There have been years during which his scientific publications have been among the most often cited research papers in the world.
"Roger continues to be at the forefront of cutting-edge research into the causes of devastating diseases, including diabetes," said Dale Greiner, PhD, the Eileen L. Berman and Stanley I. Berman Foundation Chair in Biomedical Research, Professor of Molecular Medicine and Co-Director of the UMass Diabetes Center of Excellence. "His work has provided insights into the mechanisms responsible for diabetes and provided clear pathways that are druggable targets for the development of therapies for the treatment and prevention of diabetes."
Dr. Davis earned four degrees from Queens' College of the University of Cambridge in England: a bachelor's degree in natural sciences, advanced degrees in biochemistry and natural sciences, and a doctorate degree in biochemistry. He arrived at UMass Chan Medical School in 1982 as a research fellow in the Czech Lab, then became an assistant professor in what was then the Department of Biochemistry and Molecular Biology the following year. In 1990, he was promoted to associate professor, became a founding member of the Program in Molecular Medicine, and named an investigator of the Howard Hughes Medical Institute.
In 2002, Dr. Davis was elected a fellow of the Royal Society. He's also a fellow of the American Academy of Microbiology and the American Association for the Advancement of Science. He's a member of the European Molecular Biology Organization, the National Academy of Inventors and the National Academy of Sciences.
The Davis Lab is currently investigating the molecular mechanism by which inflammation contributes to diabetes and working on the design of novel therapeutic strategies.
Related Stories:
Investigating a Potential Hormone Therapy for Type 2 Diabetes in the Davis Lab at UMass Medical School
Davis Lab Sheds Light on Complications From High Blood Glucose & Excess Body Fat Which Lead to Type 2 Diabetes
Roger Davis Elected into the National Academy of Sciences